Best of the October 2018 Power BI Release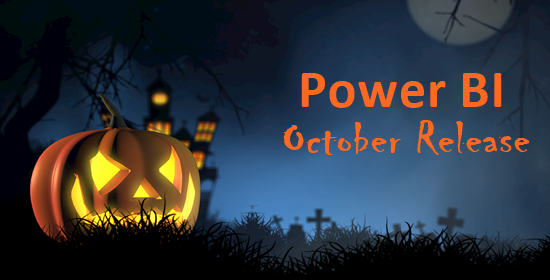 The following is part of an ongoing series on Power BI from Shawn Alpay. Shawn is a Business Intelligence Architect at Senturus who has spent the last 15 years designing and implementing Microsoft-centric BI solutions for clients.
Hi there!  Shawn Alpay here and I'm back with this month's round-up of new features in Power BI. This time around, we're looking at what's available in the October 2018 release. You can find Microsoft's official write-up of those new features.
My blog won't be a rundown of every single released feature; rather, it will be my hot take on the features that stand out most to me, for good or ill.
FEATURE ROADMAP
But before we dive into the round up, I want to call your attention to a separate feature roadmap that Microsoft's been maintaining for a while now.
In the feature roadmap, each upcoming feature has been assigned a particular release month. This initially intrigued me because while Microsoft has slowly become more transparent about what features are coming down the Power BI pike, they have until recently remained extremely tight-lipped about the precise timeframe in which any given feature would be delivered.
So I got really excited when, a few days in advance of the actual October 2018 release, I laid my eyes on the list of Power BI Desktop features planned for this release. See the below screenshot:
Expression-based formatting (aka using DAX defines the look and feel of titles, fonts, borders, lines and so on)! Expand/collapse in the matrix visual!  A complete overhaul of the filtering experience! And ad-hoc exploration directly within Power BI, rather than having to use Analyze in Excel separately! How cool is all that??
…And yet, in my very cynical Microsoft developer's heart, I couldn't quite believe that all these things would drop in October – so I took a screenshot of the list on October 11 for future reference. And sure enough, the October 2018 release of Power BI came along on October 15 and most of these things were missing.
 I returned to the feature roadmap and that same list as of October 22 read as follows:
Almost all of the features from my first screenshot were pushed to a future release, with the most important ones now scheduled to drop in March 2019, five months from now. (And the diligent reader will notice that custom fonts have been dropped from the list entirely.) 
I can understand a particular feature's release slipping a single month (e.g. the expand/collapse in matrix visuals is theoretically now coming next month) — but to set the expectation that three key features will come in a particular month, and then to quietly revise the release date for all of them to be nearly half a year later is, in a word…unacceptable. If I'm being entirely candid, this is the kind of thing that makes me wish I'd never seen the roadmap in the first place.
Okay, well… maybe that's a little too cynical. I'm glad it exists, because we now have more specific visibility to what is coming — but I'd encourage you to put very little stock in when each feature is expected.
AND ONE MORE THING ABOUT THE FEATURE ROADMAP
Before we move on to the main release notes, there's one other thing to notice about the roadmap list: it mentions some new features that the main release notes entirely skip over.
For example, according to the roadmap, custom visuals have been significantly upgraded and now support persistent filters, bookmarks and report tooltips. This change is really huge. For one of my clients, the previous lack of support for persistent filters was a deal breaker for using the Hierarchy Slicer. It meant that we had to use separate stock slicers for each level in the hierarchy, resulting in a much worse overall user experience. Now, we can revert to using the Hierarchy Slicer. But if all I had read this month was the main release notes page, I would have had no clue that we could now do that! 
So, I'd highly recommend you peruse the feature roadmap in addition to the monthly release notes for future releases, as you might find some new functionality that pertains to your particular project.
SEARCH IN FILTER CARDS
Alright, enough ranting — let's move on! We've now got the ability to perform a search in filter cards whereas previously we were only able to search in slicers. For dimension attributes with a ton of members, this ability is going to be extremely useful.
DAX EDITOR IMPROVEMENTS
Let's file this one under "a step in the right direction." They've added line numbers and keyboard shortcuts to the DAX editor. That's nice and all, but the entire experience still feels underdeveloped. 
For example, I can only see roughly a dozen lines of code at a time — and because DAX measures can often grow to be much longer than that, it's helpful to be able to see a larger chunk of the code at once. 
I'd like to call your attention to two fantastic (and borderline indispensable) open-source development tools, in case you haven't used them: DAX Studio and Tabular Editor. These tools were originally authored for use with SSAS Tabular, but they absolutely can (and should!) be used as part of your Power BI development workflow; resident SSAS Tabular genius Marco Russo details how to use Tabular Editor with Power BI models.
My point is that a tool like Tabular Editor offers a very lovely DAX development experience, not least of which because it can format your DAX into a standard format at the push of a button. It's often quite easy to get lazy when writing DAX directly within the Power BI Desktop environment because we're limited to such a short window for code editing. I look forward to Microsoft cribbing more of the good ideas fostered in these open-source tools.
COMPOSITE MODELS AND AGGREGATIONS IN THE POWER BI SERVICE
With this release, models making use of composite models and aggregations can now be published to Power BI Service. I discussed composite models and aggregations in my previous blog post in this series – but those features were previously only available in Power BI Desktop.
Full disclosure: I haven't yet had an opportunity to leverage this functionality on a real project, though I suspect I will soon. I've heard anecdotally that the composite model experience has been improved quite a bit since it was first released, and that's good news for sure.
DATA PROFILING IN QUERY EDITOR
First off, I think it's a big deal that Microsoft has been using the term Power Query more often recently. For a while, it seemed like they had scrubbed all mention of it from a marketing perspective, leaving the user base with no good name to describe the data prep aspect of PowerPivot and/or Power BI.
They've added data profiling to the Power Query Editor. If you click the Column distribution checkbox, it'll show you a set of bars for each column that describes the number of distinct and unique values that the column carries. Take note, this function only works for the first 1000 rows, so you're out of luck if you're hoping to do any full-on data profiling of your facts.
FUZZY MATCHING
We now have Fuzzy Matching capabilities for joining a dimension with a fact. In the example below, we're matching the People table to the Sales table through some various iterations of the name "Bill/William":
…Which results in the following merge:
I'll be honest: I've always hated fuzzy matching logic because it essentially allows an organization to sweep their data quality issues under the rug by putting lipstick on a pig. Referential integrity issues are the enemy. Rather than try to repair those in the data prep stage, I'd much rather stick to a "garbage in, garbage out" philosophy whereby we let users see the issues thereby opening a dialogue on how to repair them somewhere upstream.
Given that principle, I'd like to believe that I will go my entire career without ever using this fuzzy matching functionality in Power BI. Time will tell, however, if I can adhere to that ideal; if I've learned nothing else as a BI architect, it's that there's sometimes little sense in being precious.
THAT'S IT FOR NOW!
Come back next month, and I'll have another rundown for you for the November 2018 release. In the meantime, let's place some bets on whether or not they'll implement the matrix visual's expand/collapse functionality in the next version!
If you'd like to hear more from Shawn and learn more about Microsoft Power BI, check out his webinar recording Power BI: Beyond the Buzz. Shawn explains how the product fits into Microsoft's overall Business Intelligence framework, reviews what it does well (and does poorly) and demos some of its more prominent features. Or read his workaround tip for printing reports in Power BI. You can scroll through our list of blogs to find previous updates from Shawn on Power BI.