View our entire library of updates and reviews on Cognos new features.
Portal Tabs were a valuable tool for Cognos administrators. With the advent of Cognos Analytics, a brand-new UI was introduced and Portal Tabs disappeared. Since 11.0.5; however, Cognos Analytics included features that could be easily setup to provide the same capabilities as in Cognos BI 8-10. And now…Portal Tabs are back as of May 2018. Below we take a look at Portal Tab techniques past, present and future.
Watch our on-demand webinar about Portal Tabs for an in-depth review of available options for defining custom landing pages. We also provide demos and discussions of how legacy Portal Tabs have been integrated into Cognos Analytics.
The past
In Cognos BI 8-10, the Portal Tab feature was an extremely useful one. The ability to define a custom landing page for different users and groups made it easy to find and access the required reports, while also securing areas that should be locked down. This made Portal Tabs a valuable tool for all Cognos administrators.
Here is an example of a Cognos BI 10 Portal Tab.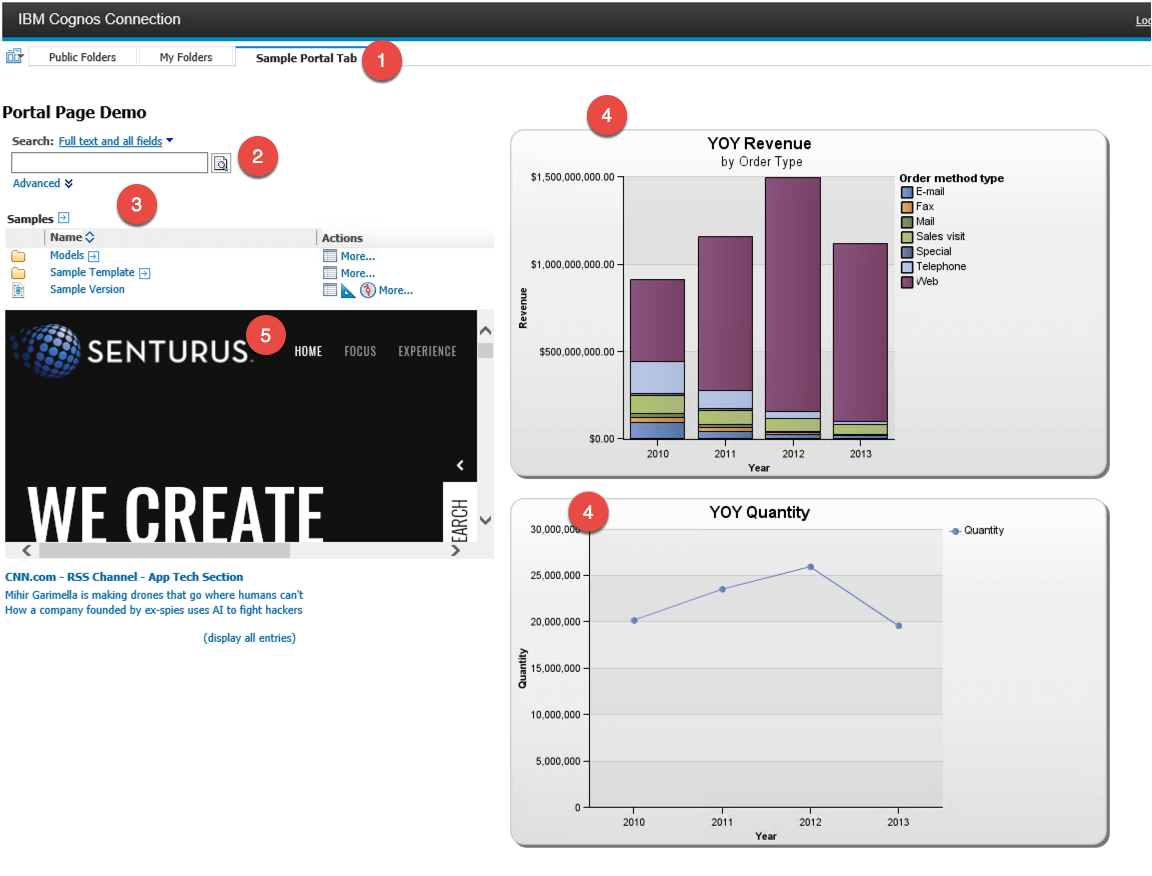 For the most part the following techniques are used here
The Portal Tab is added to a user's profile and can be combined with other tabs, as well as with the removal of Public Folders or My Folders
A Cognos Search Portlet to quickly find reports
A Cognos Navigator Portlet to focus on a specific folder or group or reports
A Cognos Viewer Portlet to run reports inside the portal tab
A web page or RSS feed to list internal company information
The present
In Cognos Analytics the UI was completely revamped. The concept of Tabs and Portal Tabs no longer exist. Public Folders/My Folders is now Team Content/My Content. Tabs are now folders. At first glance, long-time Portal Tab users and administrators may be afraid to make this jump. However, it's not something to be afraid of.
Since 11.0.5, the ability to create extensions and map them to user roles has virtually replaced the need for Portal Tabs. The five techniques highlighted above can be easily setup to provide the same capabilities in Cognos Analytics.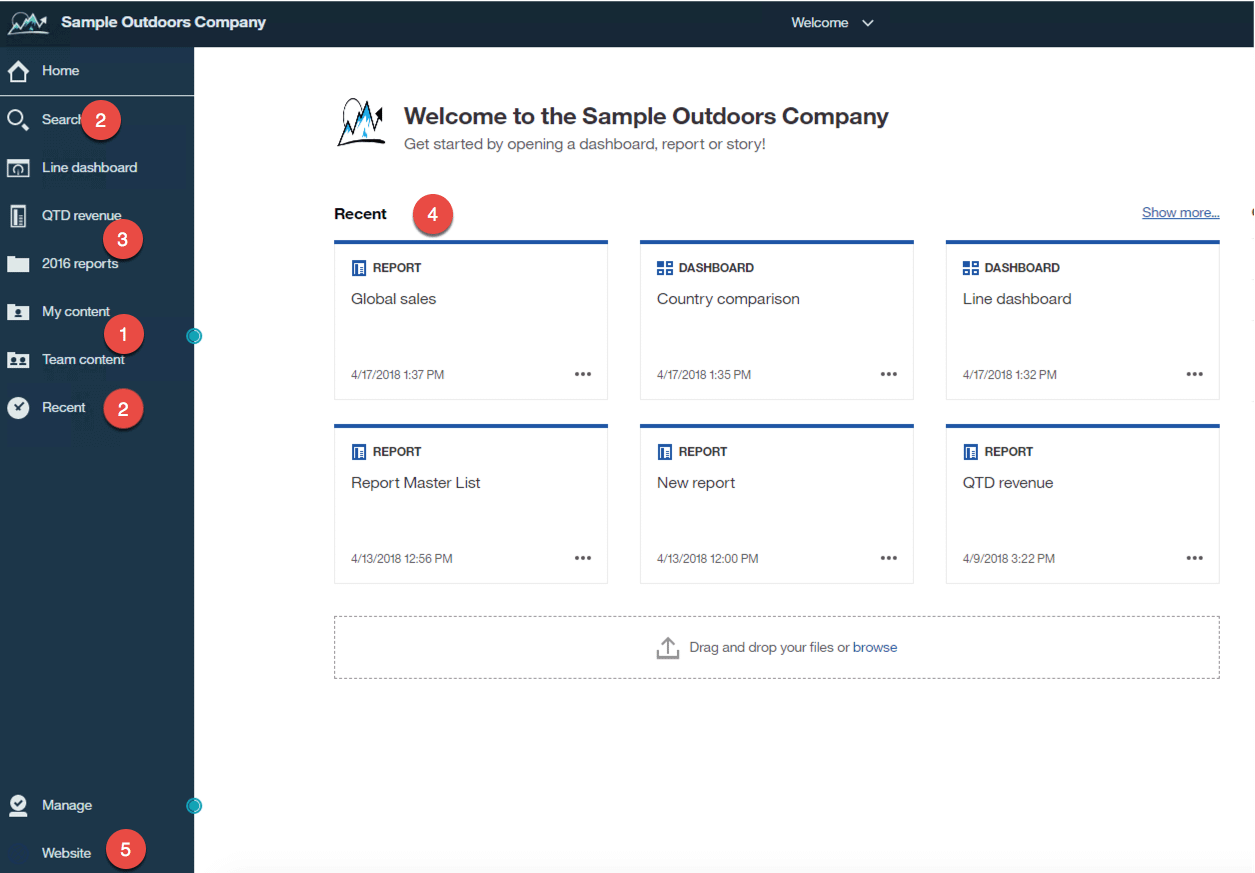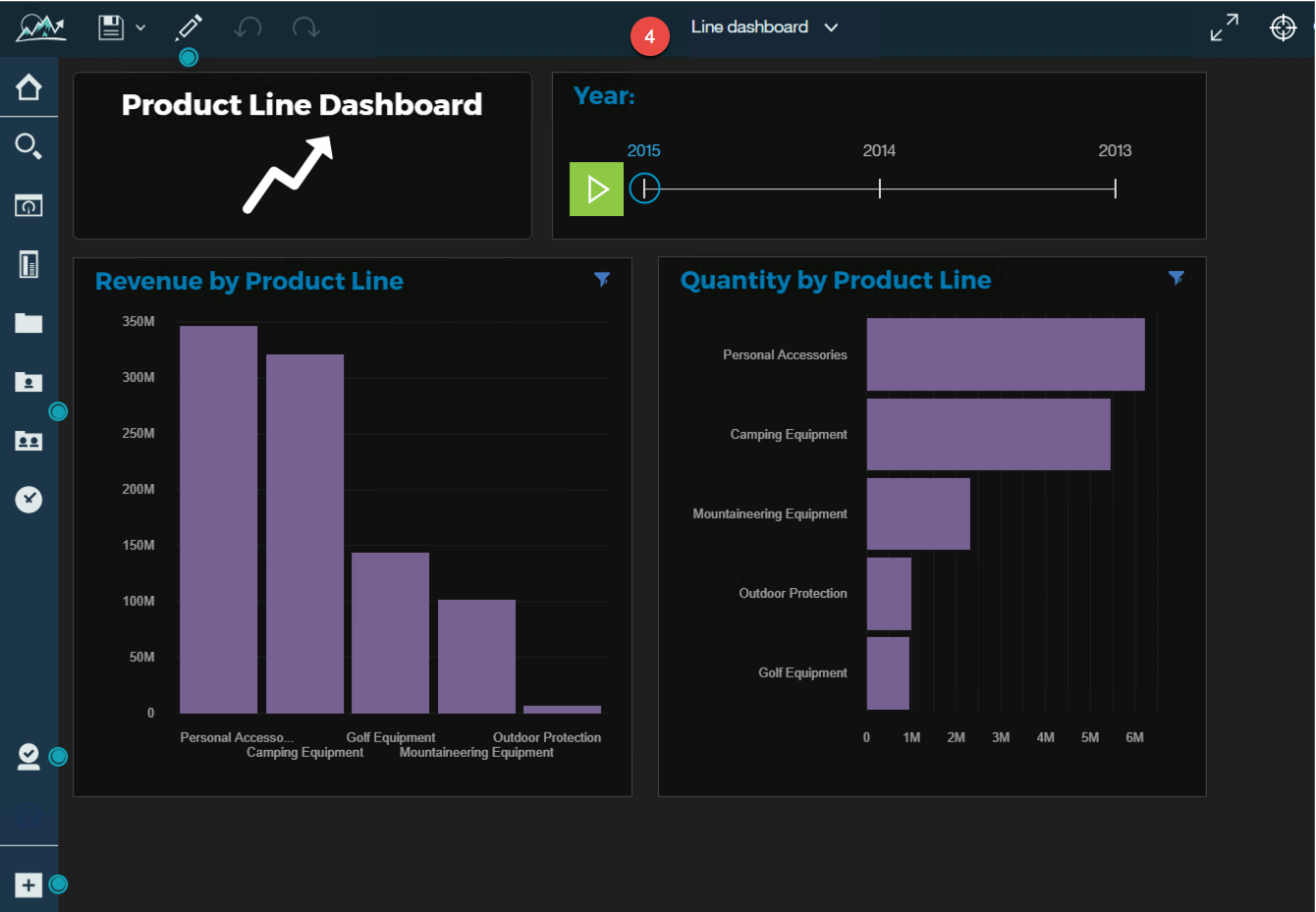 Team Content/My Content exist as folders on the Navigation Bar. These can be displayed or hidden for each role.
The search capability in Cognos Analytics is greatly improved and baked right into the Navigation Bar. There is no need to run index jobs and the results are much more accurate. The addition of the recent report run list also makes it easy to find the last 5-20 reports you ran. Both buttons can also be hidden for each role.
The Cognos Navigator has been replaced with extensions. You can add as many folders, reports, dashboards, drop downs, webpages, etc. as you like. A simple modification to a JSON file is all it takes. Once you have created an extension, you can again control if it is displayed or hidden by role.
By default, the center screen shows the recent reports, but since there is a specific button for this, it makes sense to use it to show a report or dashboard here. This can also be setup to be unique for each role.
A custom web page or external site can be embedded into the Navigation Bar or displayed in a dashboard.
These settings all can be easily administered in the Manage > Accounts area.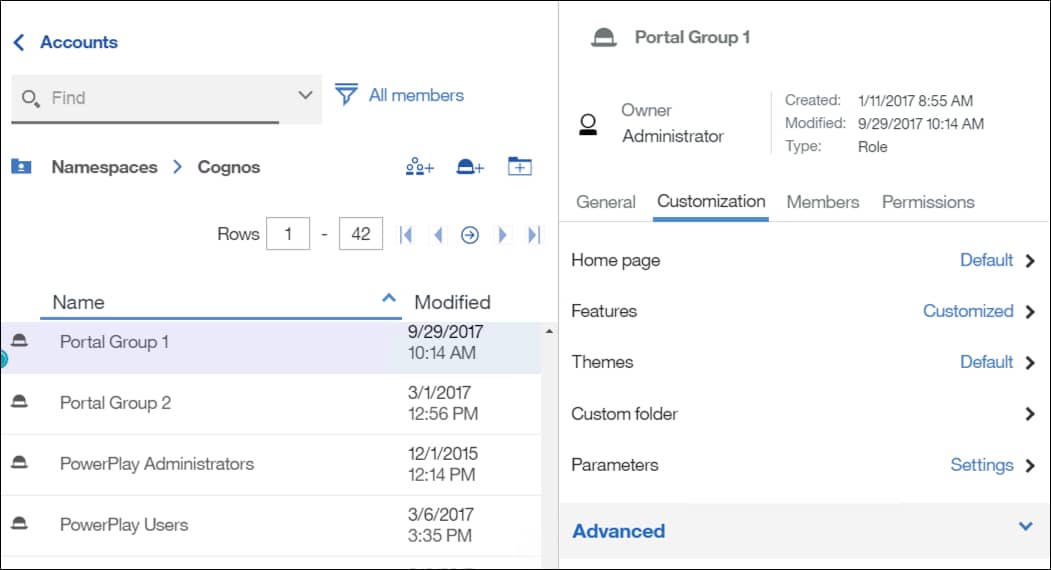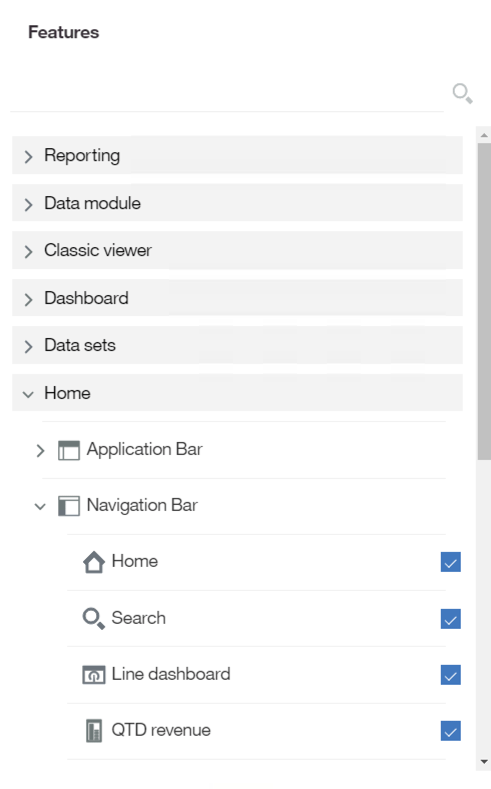 The future
Portal Tabs returned to 11.0.11 in May 2018. This reincarnation allows you to use the same Cognos BI 10 portlet technology to mimic what you have today. While this will serve as a short-term solution, the ability to edit and create new Portal Tabs is limited.
Watch our on-demand webinar to see IBM Product Management and our own Todd Schuman dive deeper into the current options available, demo and discuss the integration of legacy Portal Tabs in Cognos Analytics.
You may also be interested in our on-demand webinar Cognos Analytics: Dashboards or Reports? In it, we breakdown the benefits and differences in functionality between Cognos reports and the new dashboarding offering.