Chuck Hooper, former head of Tableau's consulting organization and Senturus lead Tableau trainer, outlines what to do when you do not want "Number of Records" in the Measure Name filter.
Scenario:
You build a view using Measure Names as a filter to allow the user to select from a subset of measures. You want "Number of Records" in the tooltip, but NOT in the filter values.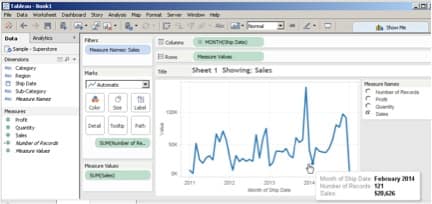 Solution:
Drag "Number of Records" to the Tooltip button in the Marks card.
Then, drag "Number of Records" from the Measures area to the Dimensions area. It will no longer be in the Measure Names filter, but still available for use in other calculations or displays.
This will work for any measure you want to keep associated with the data source, but do not want showing up in that filter.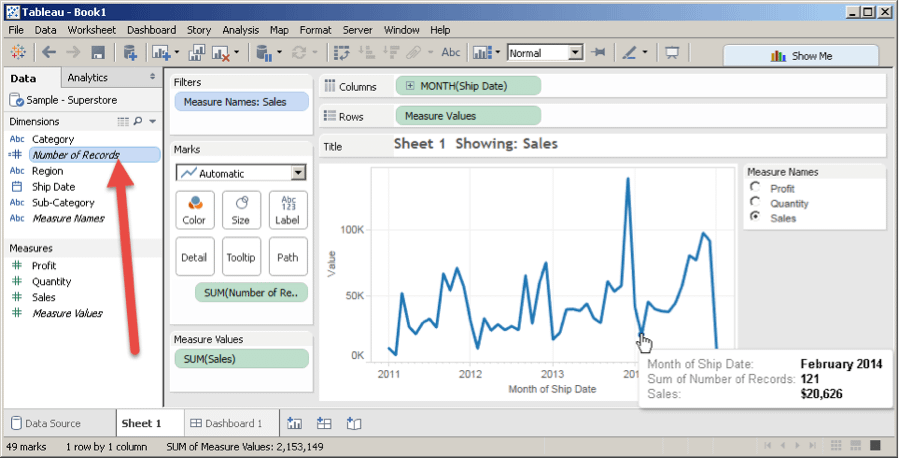 Interested in learning more about Tableau? Our on-demand webinar Tips for Tableau Beginners highlights tips for dashboard design with Tableau Desktop and how to use Tableau to take raw data and quickly make engaging, actionable visuals. Learn how to connect to various data sources and core techniques for visualizing data using the Tableau canvas.
Need additional Tableau training? We beginning and advanced instructor-led, online courses as well as self-paced, onsite and custom training.
Learn Tableau. Expert instructors. Advanced topics.
Chuck Hooper's career includes over five decades of business and IT experience. He started Tableau's Professional Services consulting organization and was a Tableau Zen Master from 2012-2014. He conducts training sessions on the use of Tableau Software products, and does speaking engagements on visual analytics, data warehouse design, and other business intelligence topics at both the technical and the executive levels.