Getting Tableau's Salesforce Dashboard Starters to work properly doesn't happen smoothly out of the gate. Despite the seemingly straightforward instructions listed on the Tableau website, connecting the Dashboard Starters to your Salesforce cloud data can be confusing if you are not familiar with Tableau Extracts and the Dashboard Starter underpinnings.
For example, even though you connect to your Salesforce cloud account, the Dashboard Starters may still show demo data. Or you may have worksheets showing no data at all. And when you don't refresh properly, you may not see the current data you are expecting.
In this blog, we describe how to correctly "rewire" the Dashboard Starters to point to your Salesforce cloud. We'll tell you how to identify commonly encountered issues and give you tips to resolve them. With these steps and tips you'll bypass commonly encountered issues and turn the Dashboard Starters into visualizations that are ready to share within your organization.
PART 1
Getting the Dashboard Starters to work with your own Salesforce cloud data
Download the Salesforce Dashboard Starters from Tableau's website (or from Tableau Online).
Open the workbook in Tableau Desktop.
Click on Data Source. When prompted to connect to Salesforce, enter your Salesforce cloud ID.
Once you are connected to the Salesforce cloud, if you still see the demo data and not your own Salesforce data do the following:
a. From the top menu in Tableau Desktop go to Data – Opportunities – Extract – Refresh (Full). This step may take some time depending on the number of Opportunities you have in Salesforce.TIP: Make sure you do a Refresh (Full) the first time. Subsequent refreshes can be Refresh (Incremental).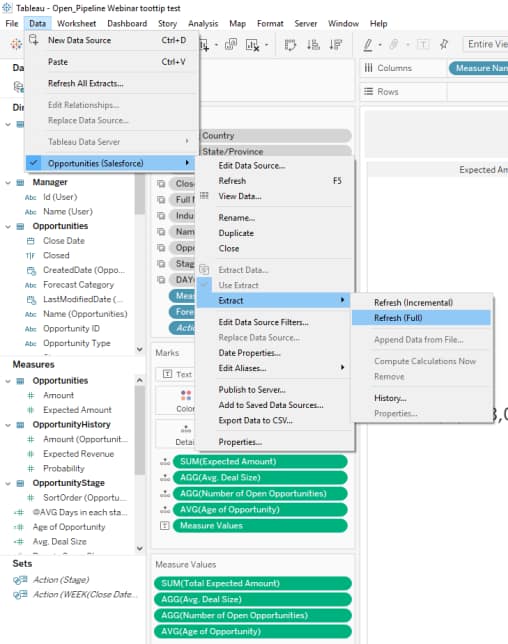 In the Open Pipeline Dashboard, go to the filters Create Date and Close Date. Change the year to 2019. You should have data in your worksheets.
TIP: If some worksheets are still blank, press F5 to refresh your data.
Verify you are seeing your own data and it is current.
TIP: If you do not have Tableau Server or Tableau Online, you can manually refresh Dashboard Starters from Tableau Desktop by repeating step 4.
PART 2
Set the Dashboard Starter up for automatic refresh using Tableau Online or Tableau Server
Once the workbook is connected to your Salesforce cloud data, you may want to publish it and set it up for refresh. The best way to do this is in Tableau Server or Tableau Online.
EXTRA IMPORTANT TIP: If you are publishing more than one Dashboard Starter, each dashboard may need its own extract. For example, all of the "Opportunity" Dashboard Starters show Opportunities (Salesforce) as the data source, but in reality they all have different tables and hidden fields. This means you can't use the same extract for Open Pipeline and Opportunity Overview.
To illustrate why this is the case, see the data models for Open Pipeline and Opportunity Overview depicted below: all the data models contain different tables, which will make the extracts different.

TIP: Step 1 (below) is optional. It is only to ensure you do not inadvertently overwrite a prior working extract. If the tables and hidden fields are exactly the same or if you are only publishing one Dashboard Starter, you can skip this step and go straight to step 2.
Go to a worksheet. Click on Data -> Opportunities (Salesforce). Rename the Opportunities (Salesforce) data source to a new name, publishing the workbook to Tableau Server/Tableau Online.

Publish your workbook to Tableau Online or Server. In the Publish dialog, choose Manage Data Sources > Published Separately, and Allow Refresh Access next to the Salesforce data source.
TIP: If asked for your Salesforce credentials, enter them so they can be embedded to allow for refresh.
To manage and change refresh schedules, go to Tableau Online or Server and click Data Sources on the left menu. Find your new connection and click into it.
Under Refresh Schedule, you can make changes or add a new schedule.
Validate the Extract Refresh you ran in Tableau Server either by looking at the data source or by going to Tasks tab and going to Extract Refreshes.

TIP: If the extract fails, check the credentials by going to the extract and choosing Edit Connection. Use the example shown in the following screenshot to set it up using your own Salesforce credentials.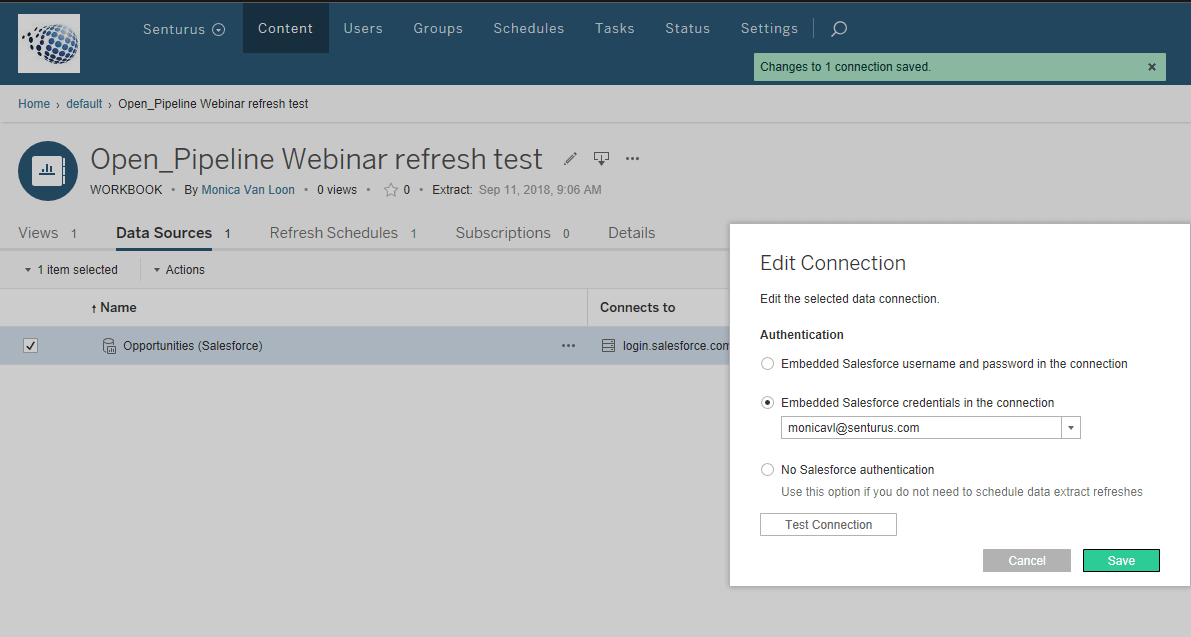 TIP: You will know if you inadvertently overwrote a working data source if your workbooks become blank and red exclamation points appear next to some of the dimensions and measures. See CloseDate in the screenshot below. You can also look at the Data Source in Tableau Online and view the connected workbooks.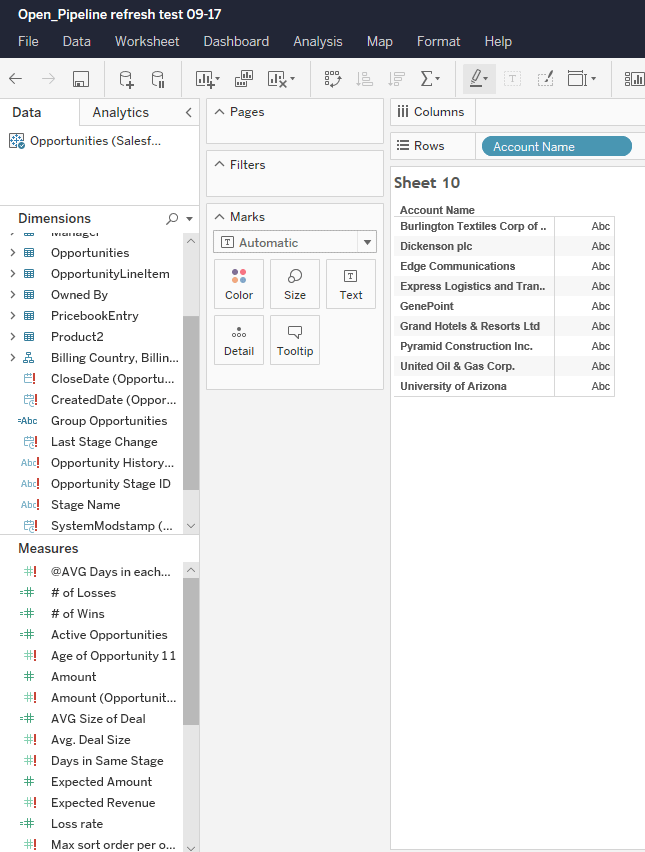 NOTE: We realize having multiple large extracts of similar data is not ideal. It can cause myriad problems including refreshes not finishing or giving errors, problems with API limits and data redundancy/mismatch. A reporting database that serves as a single source of the truth may be preferable. Senturus is well-versed in this type of architecture and can help if needed.

PART 3 (OPTIONAL)
Share the dashboards on a regular basis
If you want to regularly email your Salesforce Tableau dashboard to an audience, both Tableau Server and Tableau Online offer subscription capabilities. Users can be subscribed to the worksheet, dashboard or workbook on a daily, weekly or monthly basis. With subscriptions, users receive a thumbnail of the worksheet or dashboard in their email (see below). When clicked on, the thumbnail launches your view within Tableau Server/Tableau Online.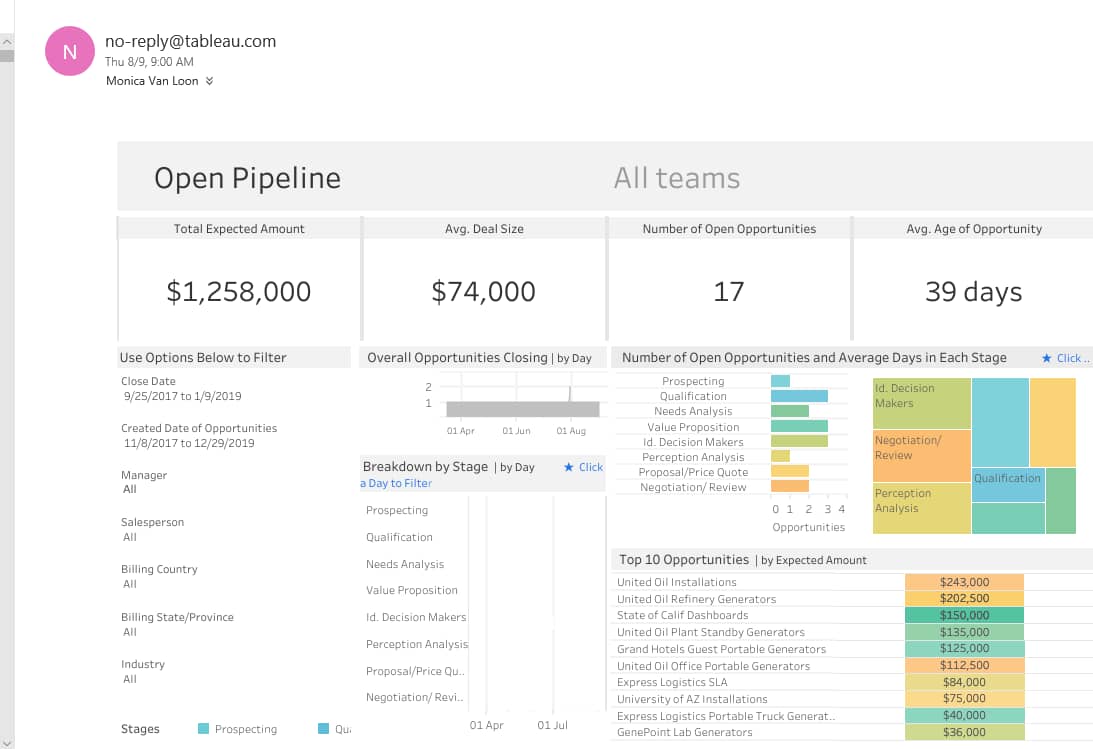 PART 4 (OPTIONAL)
Embed a Tableau dashboard into Salesforce
Because your sales team lives and breathes Salesforce, embedding Tableau visualizations directly into Salesforce gives them a huge leg up, putting key insights front and center. The Tableau dashboards offer an at-a-glance view of sales accounts and provide interactive drill down to the underlying data. They can also pull from data sources outside Salesforce. Yes, that's right: data sources outside of Salesforce can also be part of the Tableau visualization!
To learn more, see the on-demand webinar we did on this subject. Below is a sample of a Tableau dashboard embedded in Salesforce.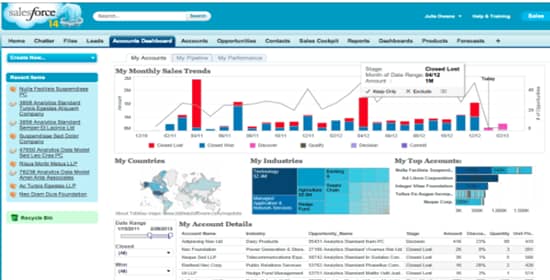 Conclusion
Tableau's Dashboard Starters for Salesforce are a great way to get up and running quickly with Salesforce data visualized in Tableau. But the implementation process can be a little tricky. Following these tips will ensure the process goes as smoothly as possible and that you'll end up with production-ready Salesforce dashboards that are up-to-date and ready to share with your organization.
Additional resources
For more details on Tableau Dashboard Starters, refer to our blog Salesforce Dashboard Starters: 18 Lessons Learned or see our deep dive on-demand webinar on the subject.