Cognos has provided steady, strong BI support for decades. The introduction of Cognos 11.1.x back in 2016 transformed and refreshed the veteran workhorse, delivering self-service, dashboarding and an intuitive UI. Now, with all the advances in data science in more recent years, it would be nice to open up Cognos' capabilities even more.
From Analytics Engine to Watson, IBM has lots of tech in its stable that could work well with Cognos. While it would be advantageous to leverage these complementary products, having to hold, maintain and manage individual licenses for each one makes it cost prohibitive. It also poses risk and integration challenges. Wouldn't it be great to apply an integrated and bundled approach to licensing IBM technologies?
IBM seems to agree. After working several years to restructure its licenses, IBM introduced Cloud Pak for Data (CP4D), a fully integrated data and AI platform that runs on Red Hat OpenShift.
So…what exactly IS IBM Cloud Pak for Data?
In a super simple nutshell, Cloud Pak for Data is a modular platform that bundles Cognos with other data and AI services as well as the ability to deploy via Red Hat OpenShift containers. Providing more functionality for less, CP4D can yield substantial value and greater ROI and offers a clear path to modernizing Cognos Analytics.
What is included in Cloud Pak for Data?
Cloud Pak for Data contains services for AI, analytics, dashboards, data sources, data governance, developer tools, storage, and industry solutions. See below for a full list of services.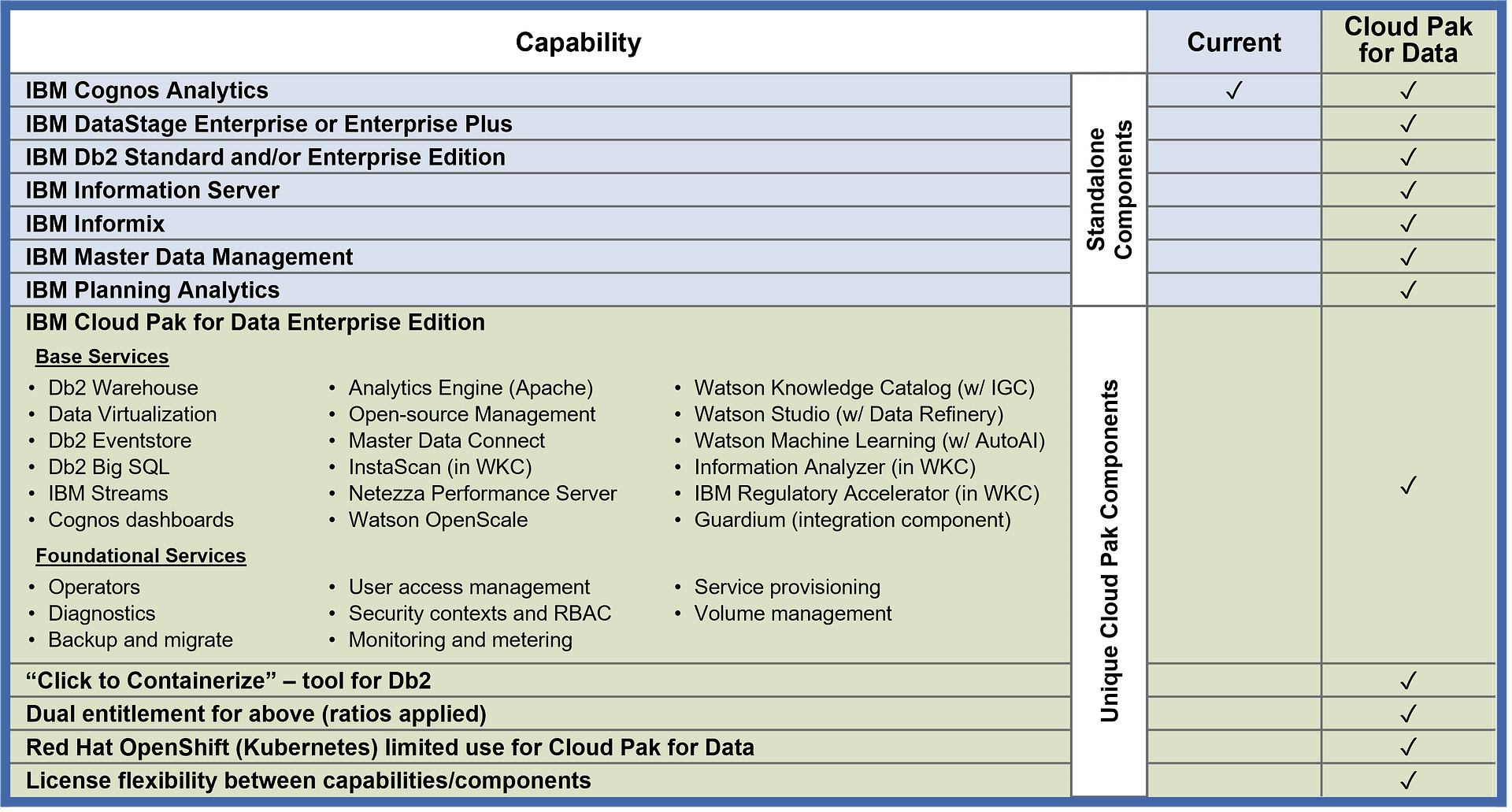 Why should I upgrade?
Integrating services can help mitigate costs and risks. IBM provides software integration and directional management. Then there are the modernization benefits provided by CP4D including data virtualization, increased design productivity, multi-cloud flexibility, faster workload execution, reduced storage, administration and operational costs, and much more.
Those are healthy, real benefits, but they are a bit pie in the sky. Here is a list of six tangible reasons we feel makes a CP4D upgrade attractive for organizations running Cognos. We may have saved the best reason for last…
Modernization at your own pace. There are no deadlines to move to the cloud or adopt new functionality. You can maintain your on-prem Cognos deployment indefinitely.
Respect for legacy investments. You can hold on to previous investments in Studios and older Cognos data sources like Power Cubes. You can stay on your current version of Cognos—you are not forced to upgrade to the latest Cognos release.
Deployment options. CP4D is a traditional license offering, not a managed service. That means the licensing permits use in whatever environment you want to operate in. So, you can:

Remain on Windows/Linux/Unix.
Move to containers with the on-prem software version built on the Red Hat OpenShift container platform or to a fully managed version built on the IBM cloud.
Blend your own "dual deployment." The only limitation is that you cannot exceed your total license entitlement.

Example:  Let's say you own 50 Cognos licenses. You use all 50 on Windows/Linux/Unix; OR all 50 on Cloud Pak for Data OpenShift; or you can use combination up to 50 total across both deployments (40/10, 25/25, etc.).
Red Hat OpenShift containerization. Containerization adds automation and scaling ease to deployment and change management and improves hardware efficiency. Learn more about Red Hat OpenShift. VM vs. containers: in a typical VM deployment, apps are typically stacked in individual, virtualized silos. As a result, VM environments waste significant amounts of memory, leaving only a small percent available for productive work. In a containerized environment, that changes. Multiple apps can be stacked in the same environment and system memory is shared between containers. There is a ripple of efficiencies: hardware costs drop because you run less cores. As an example, in a recent deployment, our client was able to drop from 16 cores to 4.

Containers are a more agile and efficient way of handing virtualization. Red Hat OpenShift approach to containerization is even better.
Upgrade entitlements! Like the AmEx slogan says, "membership has its privileges." With Cloud Pak for Data, you don't need to worry about license counts or buy extra licenses for development. And once you do trade up, you can allocate your entitlements in an infinite number of ways. For example, let's say you have 366 AUs of Cognos (Explorer/User/Viewer) Analytics. Using a Cognos User Licenses at 90:1 standard + Bonus 12:1 AU to VPC ration, at a minimum

you would get 366 AUs of Cognos Analytics + 34 VPCs of Cloud Pak for Data. After you trade up, you can move your workload any number of ways.
Cost. And perhaps the best reason of all…with Senturus special pricing, it often doesn't cost anything to upgrade to Cloud Pak for Data. It may even reduce your licensing costs in the future. The cost to upgrade depends on what type of license you hold currently.
Bottom line: nothing to lose, lots to gain
IBM is making it easy for organizations to modernize using Cloud Pak for Data. To put you on the path, it is attractive in terms of cost, flexibility and benefits.
Upgrading Cognos licensing has significant benefits, providing on-demand access to other IBM products and functionality when you are ready to make that journey.
It costs nothing to find out what you can gain. Contact us so we can review your existing license and do the calculations. As a long-time Cognos partner, Senturus is able to take advantage of preferential pricing that we pass along to our clients. We can offer Cloud Pak for Data at a significant discount.