Tableau's New Licensing: Creator, Explorer and Viewer Explained
Business Strategy & Perspectives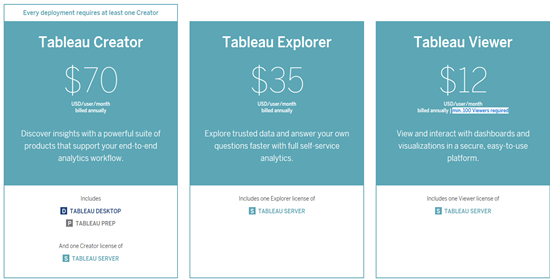 CREATOR LICENSE
Tableau made the most changes to the Creator license. This license is similar to the old Desktop Professional license, but now has more capabilities. Every Tableau deployment will require at least one Creator license as it is the only license type that allows you to create and modify data sources for Tableau Server and Desktop. It comes bundled with Tableau Desktop, Tableau Prep and Tableau Server or Tableau Online. The Creator license is the most expensive of the three licenses, so you want to choose it versus the less expensive Explorer or Viewer licenses only when its additional functionality is needed.  Below, is a list of four important capabilities that only come with the Creator license and make it worth the expense.
Learn Tableau Today!  Tableau Fundamentals by Senturus »
Dashboard Starters. Dashboard Starters for Salesforce, Marketo, Eloqua and ServiceNow are visualization templates (complete with demo data) that easily connect to your own instance of these applications. Surprisingly, Dashboards Starters are only available in Tableau Online, which is the hosted SAAS version of Tableau Server and is only available with a Creator license. If you do not have Tableau Online 2018, you will not see the option for Dashboard Starters. Below is an example of a Dashboard Starter for Salesforce:

End-to-End Authoring in Tableau Server/Online. Tableau Server and Tableau Online 2018 promises end-to-end web authoring from your browser. In Release 2018.1 and above, you can connect to files, databases, cloud connectors and create and modify data sources in the web authoring environments. In Tableau 10.x you could only create new data sources in Tableau Desktop. To access end-to-end web authoring, you need a Creator license. Tableau Server and Online administrators will need the Site Administrator Creator. The features in the web authoring environment now closely approximate those available in Tableau Desktop; read a comparison on the Tableau website.
Tableau Prep. This is a new ETL tool similar to Alteryx and Informatica, called Project Maestro in beta. This tool can be used to clean and prep data for Tableau. You only get access to Tableau Prep if you have the new Creator license. Below is an image of what Tableau Prep looks like. To learn more about the Tableau Prep features, read our blog.

Note: Tableau will give Tableau Desktop customers free access to Tableau Prep until 2020. After that time, any Desktop license must be updated to the Creator license to have access to Tableau Prep.
Tableau Desktop. The new Creator license is the only license that comes with Tableau Desktop. Tableau Desktop is still the most fully featured dashboard/worksheet creation tool. But not by much. The 2018 versions of Tableau Server/Tableau Web Authoring are extremely similar to Tableau Desktop.
Note: If you don't have the Creator license and have the Tableau Explorer license, you can use Tableau Server/Tableau Web Authoring to create worksheets and dashboards using published data sources.
EXPLORER LICENSE
With Tableau's Explorer license you don't have access to Tableau Prep and you cannot create a Tableau data source, but you can create a new worksheet that connects to previously published data sources.  With the Explorer license, you can create subscriptions to share your Tableau dashboards and worksheets via email on a daily, weekly or monthly basis.
VIEWER LICENSE
A Tableau Viewer license can only access published content on Tableau Server and Tableau Online in a browser. Viewers can still change values in filters, but they can't modify any of the dashboards or worksheets and they cannot create new dashboards or worksheets. One important item in the small print is that the new Viewer license has a minimum requirement of 100 users.
THE BOTTOM LINE
If you want to be able to create new data sources, to use Tableau's new ETL tool, Tableau Prep, or to use Tableau Desktop, you will need to invest in the Creator license. If you only need to access previously published data sources for your workbooks, go with the Explorer license. And if you only need to view Tableau content and change filters, the Viewer license is for you.
The good news is that the Creator license is priced similarly to the old Tableau Desktop license so you are basically getting Tableau Prep and Tableau Web Authoring for free! The down side of this pricing model is the 100-person minimum for Tableau Viewer. But all-in-all, Tableau has made some excellent additions to an already great set of tools and its licensing is now more closely aligned with how users create, explore and view data with Tableau.
Learn Tableau Today!  Tableau Fundamentals by Senturus »