When most organizations begin using Power BI, a user level Power BI Pro license is all that is needed. The Pro license allows users to create, publish, share and view reports to Power BI service, app.powerbi.com. The Pro license is even included with some Microsoft Enterprise license options, like the Office 365 E5 license and Microsoft 365 E5 license, making the migration to Power BI very appealing.
Power BI Pro licensing often works well for small- and mid-sized organizations focused on enabling self-service BI. However, for larger organizations that want to leverage paginated reports or for organizations that require enhanced administration tools like isolation on dedicated capacity or region targeting, an upgrade to Power BI Premium is needed.
What's included in Power BI Premium?
Specific features included with Premium are
Power BI Free (Viewer) licenses – Users that only need to view and interact with reports no longer need to purchase a Power BI Pro user license.
Paginated reporting in Power BI service – Create, publish and schedule RDL-based paginated reports in Power BI service.
Power BI Report Server – License to install an on-premise server that includes a subset of Power BI service features to run RDL and PBIX reports.
Geographic Targeting – Ability to deploy capacity to a specific region to meet an organization's regulatory requirements.
Incremental data refresh – Reduces bandwidth and processing requirements for on-premise data sources that import into Power BI service.
Larger data set sizes – Allows data set size from 1GB up to 10GB.
Larger Power BI service storage – Provides storage of 10GB per user to 100TB.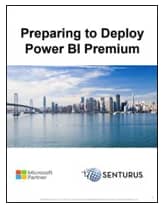 Download our whitepaper for Power BI
Premium deployments best practices
Purchasing and pricing
Unlike the Power BI Pro licenses which are purchased at the user level, Power BI Premium is purchased at the organization level. The Power BI Premium capacities that most organizations should consider are labeled P1 (8 cores and 25GB RAM), P2 (16 cores and 50GB RAM) and P3 (32 cores and 100GB RAM).
A user with the role of Office 365 Global Administrator or Billing Administrator can purchase the Premium capacity in the Microsoft 365 admin center.
A P1 capacity retails at $4,955 a month with costs rising from there. Enterprise agreements and licensing via your typical Microsoft purchasing channels may yield lower cost options.
Cost saving tip: Admins should make sure to remove the Power BI Pro licenses and assign Power BI Free licenses to users who only need to view and interact with reports. This cost savings can help offset the Premium capacity cost.
Premium admininstration
Some additional administration tasks are required when a Premium capacity has been purchased. These tasks mainly involve assigning workspaces and users to the Premium capacity. Admins can also assign Premium capacities to certain regions if needed for compliance reasons.
Admins will also need to monitor the Premium capacity for use and scale, up or down, as needed. Microsoft provides an installable Power BI app to help with this task: Power BI Premium Capacity Metrics. Once installed to your Power BI environment, you can view use data for up to seven days.

Paginated reports
The primary user facing feature that will drive many organizations to Power BI Premium are paginated, RDL formatted reports. Classically, these reports are typically run on-premise using SQL Server Report Services. By enabling Premium capacity, these workloads can be migrated to the cloud and the need for those on-premise servers (and their ongoing maintenance) is removed. This also means the organization will see a constant drumbeat of feature enhancements to paginated reports as Microsoft continues to invest and improve this cloud-based product.
Paginated reports are built using Power BI Report Builder, an evolution of the SSRS Report Builder. These reports can use Power BI data sets and can be published to a workspace on Power BI service that has been added to the Premium capacity. Those workspaces are marked with a diamond icon (

) next to the workspace name. Once published, subscriptions can be configured to send paginated reports on a schedule.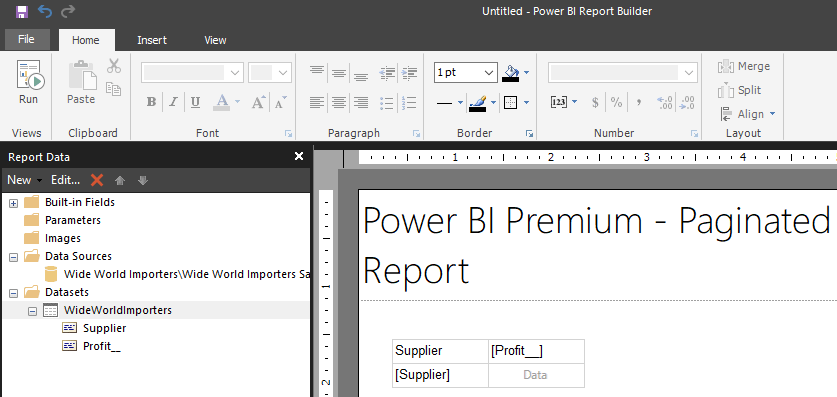 Summing up
Power BI Premium capacity adds critical management features for large organizations. Is also unlocks paginated reports by moving them to the cloud.
Read our blog for step-by-step instructions on how to create and publish paginated reports.
Expert assistance with your Power BI initiatives
Senturus can help you with anything from back-end data architecture to creating analysis-ready dashboards. Not only are we there for you along every point of your Power BI initiative, we guarantee our work. Ethical behavior and a customer-centric approach to business come first with us. Contact us to learn more.