Analytics Connector
CONNECTS POWER BI AND TABLEAU TO COGNOS
The Senturus Analytics Connector lets Power BI and Tableau tap directly into the data in Cognos. By allowing these different BI platforms to work with each other, the Analytics Connector closes a critical gap in today's bi-modal BI environments, where enterprise class BI and visual analytics platforms are operating concurrently.
Organizations have made significant investments in Cognos, augmenting it with governed and prepared data, business rules and security measures. But because Tableau and Power BI do not connect directly to this bastion of BI fortitude – and all its clean data – users bypass it altogether. Instead, they spend 80% or more of their time remodeling the data and, in the process, potentially compromise data integrity and security.
THE SENTURUS SOLUTION: CONNECT COGNOS TO POWER BI OR TABLEAU 
The Senturus Analytics Connector solves this issue by allowing Tableau and Power BI to tap directly into Cognos and TM1 as data sources. The straightforward UI allows users to then simply drag and drop data from Cognos into Tableau or Power BI. Data is obtained securely via an OBDC layer connection; user authentication and restriction controls remain in place.
When your enterprise BI and visual analytics tools work in concert, beautiful things happen. Numbers match up. Performance improves. IT and business users both see huge time savings as manual, duplicative modeling efforts are eliminated.
CUSTOM CONNECTORS
We can customize the  Analytics Connector for use with other visual analytics tools such as Qlik and other enterprise BI platforms such as MicroStrategy. Contact us to learn more.
CHALLENGES OF EXTRACTING AND REMODELING DATA IN SELF-SERVICE VISUAL ANALYTICS TOOLS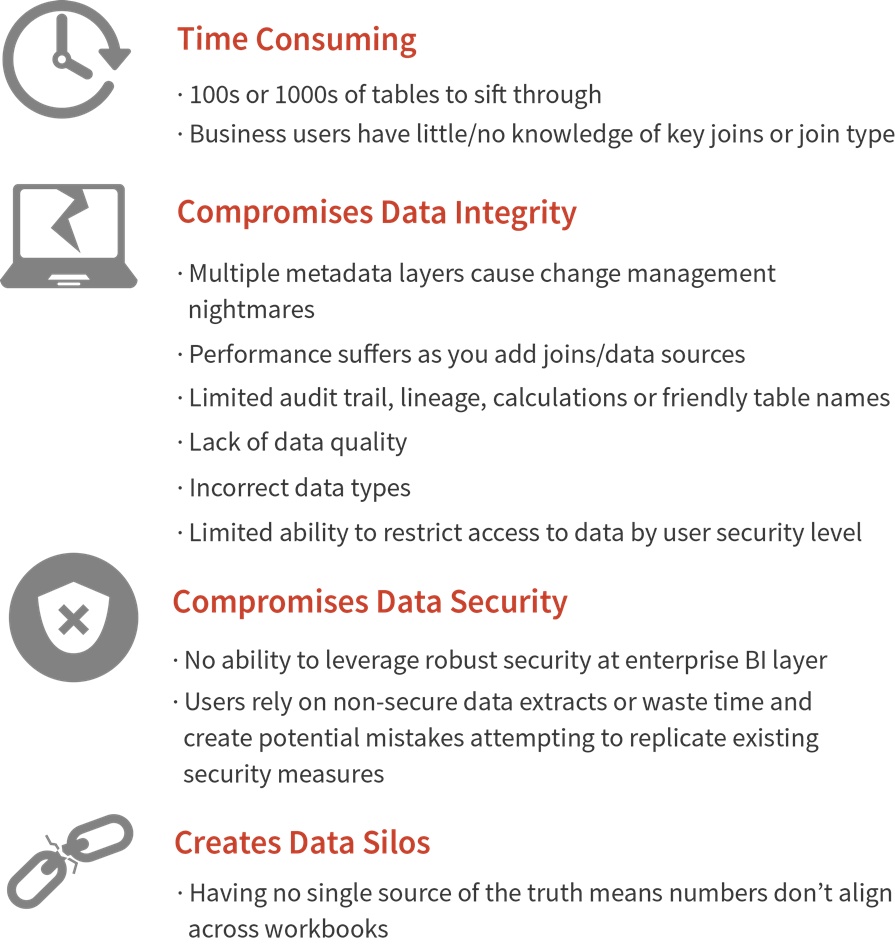 Case Studies


"The Senturus Analytics Connector easily and instantaneously gets us better time utilization for our analysts…it's a MASSIVE savings."
— Steve Kiser, Sr. Mgr Financial Systems, Ixia
---

"Our senior leadership is able to access dynamically updated KPIs. The Analytics Connector makes us look like magicians."
— Kimberly Griffin, Director for Electronic Research, Administration, Northwestern University.
---

"It is clear that the combination of Tableau, Cognos and the Senturus Analytics Connector will greatly improve all our departments."
—Dave Clausen, Business Intelligence Architect,
Aero Precision Industries
Two-week proof of concept including installation, configuration and testing.