View our entire library of updates and reviews on Cognos new features.
Cognos 11.1 Release 7 is out and it is a heavy hitter! If you thought R6 was feature packed, wait until you read what IBM packed into this release.
11.1 long-term support
The R7 version will be the final long-term support release (LTS) for the 11.1 build. That means by upgrading to this version, you will be supported for two-plus years with hot fixes and tech support.
That also means 11.0 R13 (which was the LTS release for 11.0) is going to be out of support soon. 11.0.13 was released November 2018. If you are still on that version, it might be a good idea to start planning for your next upgrade.
Jumpstart your Cognos upgrade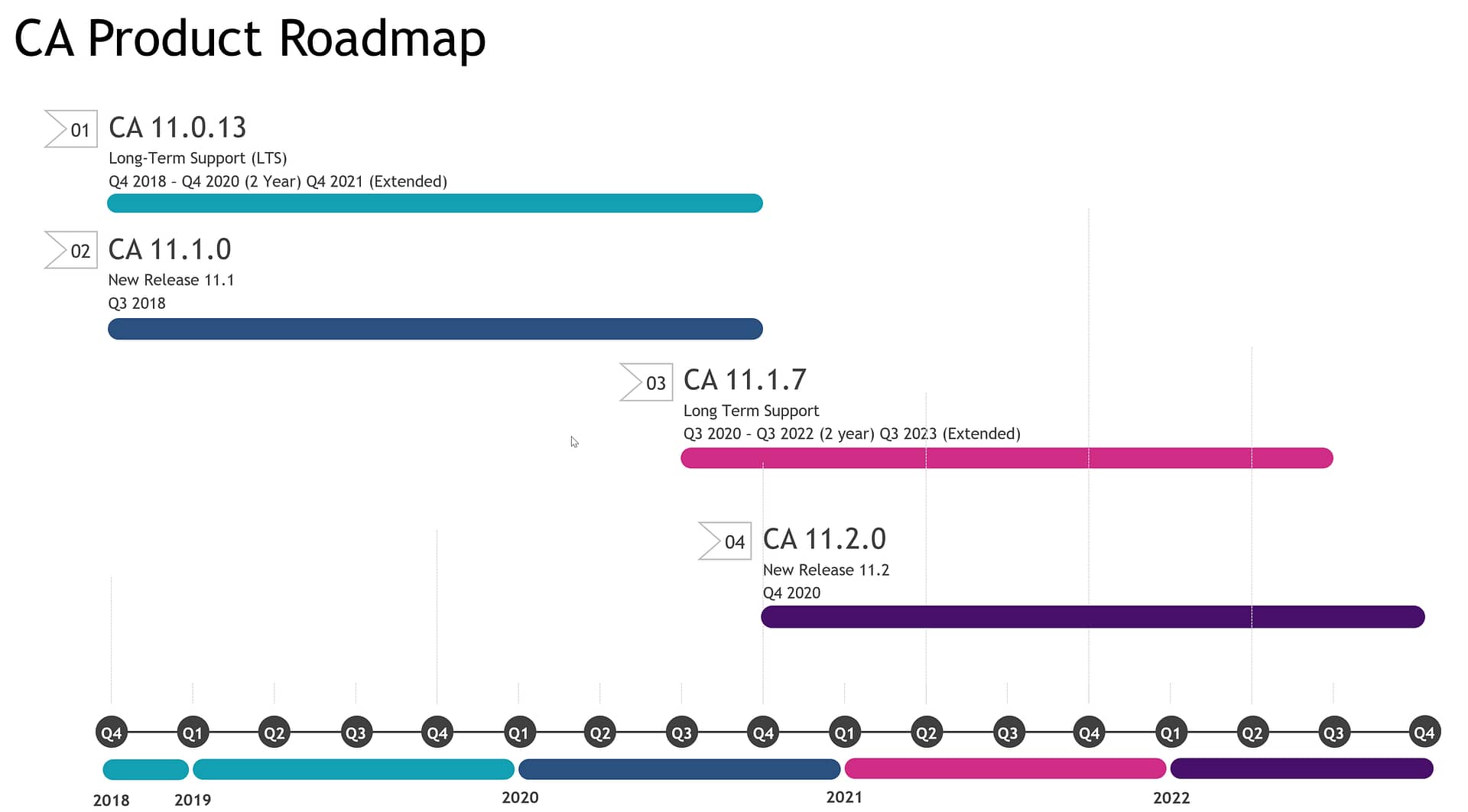 Cognos Analytics product roadmap CA 11.0, 11.1, 11.2.
New mobile app
Cognos Analytics has been mobile friendly since it was initially released. Logging into the web UI from phones and tablets, users have been able to run reports and dashboards like they do from their laptops. However, the experience was problematic as many reports and dashboards are not designed for a smaller screen. A name change plus a new app aim to fix those issues, but are making the term "mobile" confusing.

Here is where mobile gets muddy with Cognos Analytics: there are now two apps that support mobile. The first is Reporting App, which is really the old IBM Cognos that has been out there for years (it just got renamed). Unless you are still using Active Reports via mobile, you can basically dismiss this app.
The second mobile app for Cognos is the brand new Analytics App. Designed for smartphones, it allows you to do things like pin favorite visualizations to a custom pin board and share them with other users in your organization. Similar to Event Studio, it also lets you set up alerts to check for events that you determine, such as sales hitting a high or low number.
Rounding out the new mobile features is the ability to use the AI Assistant to ask natural language questions (you can speak into your phone) and find related visualizations that you can pin or set alerts against.
NOTE: The mobile Analytics App will only be available to IBM Cloud users at first launch. On-premise users will have to wait to use this new app.
Data set editor
In early versions of Cognos 11.1 there was a hack that let you edit data sets using Control-M. IBM closed this hack, but the functionality is now here, and it is amazing!
Since being introduced, data sets have been a great way to speed up reports and dashboards by removing query execution time from the database and pulling/aggregating data in a local file format (Apache Parquet). However, the interface was lacking and you were limited to just dragging and dropping from your existing models. If you wanted to do any calculations or transformations, you needed to create a data module to feed into the data set.
In this latest release, IBM introduces the data set editor, which is essentially the reporting interface on top of a data set. Now, instead of creating a report for users to view, you stage data to be used as a source for other reports and dashboards. This means multiple pages, queries, joins and unions are all possible now. This functionality is a great way to address slow running reports that suffer from a database bottleneck.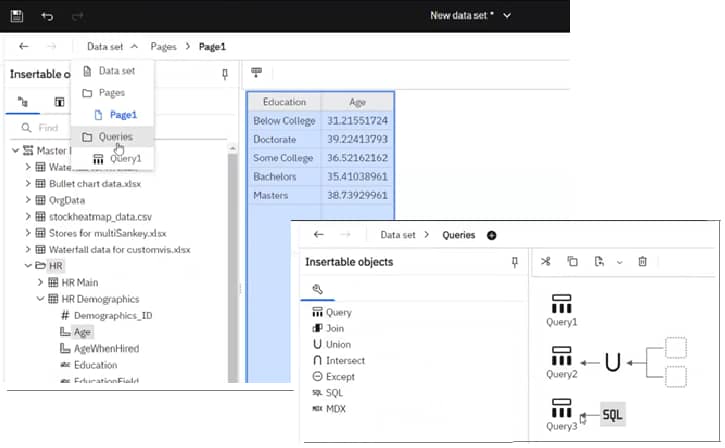 Improved visualizations in reporting
11.1 visualizations in reporting have being missing some of the legacy charts needed to meet basic requirements. With this release, visualizations receive some new features and additional properties to help close that gap, for example:
Baselines
Combination charts let you add in multiple values
Waterfall charts allow multiple inputs
Treemaps have four display modes: the standard Squarify plus Slice, Dice and Slice-Dice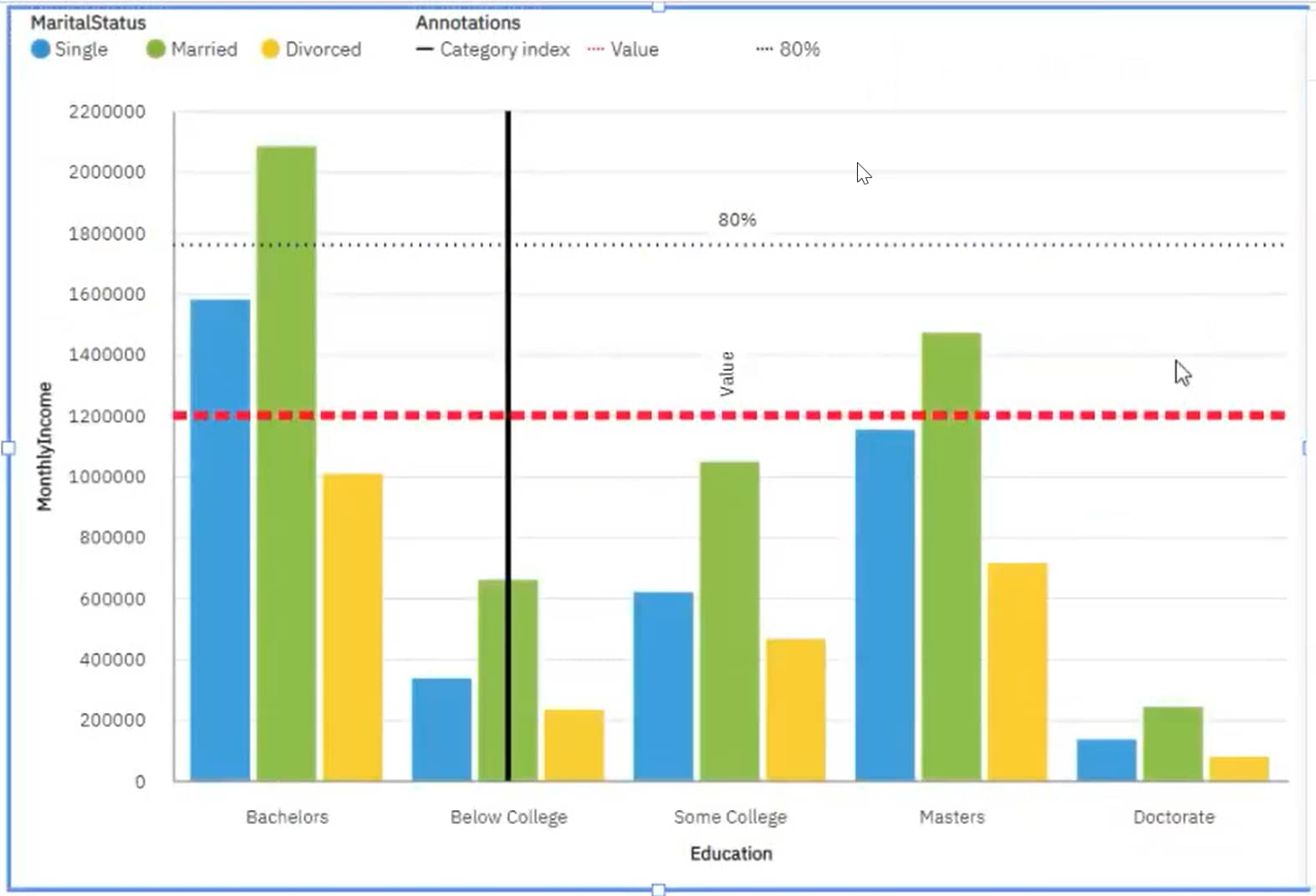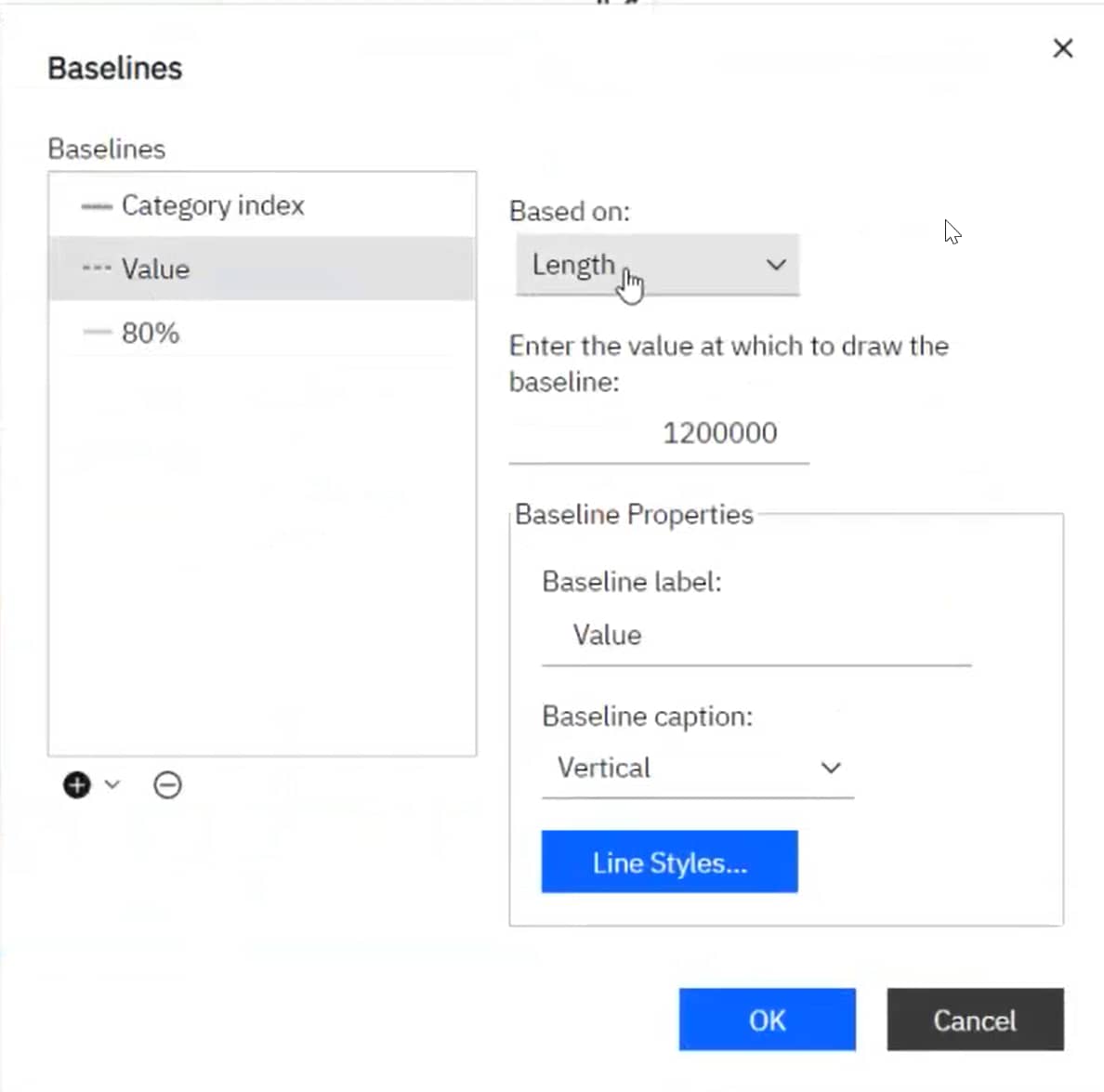 Baselines have been around in the legacy charts forever but have not been available in the 11.1 visualizations until now.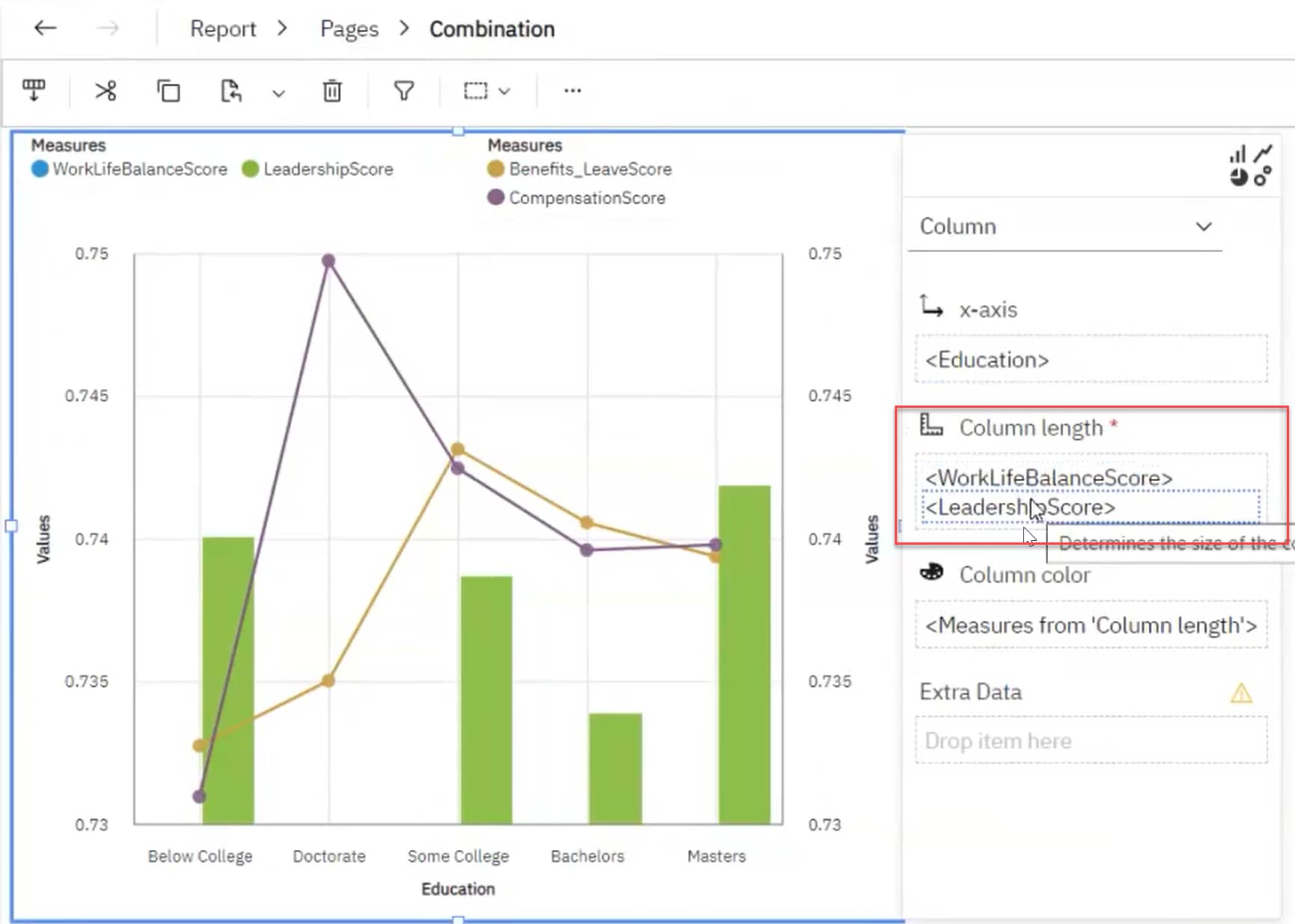 You can add in multiple values on combination charts.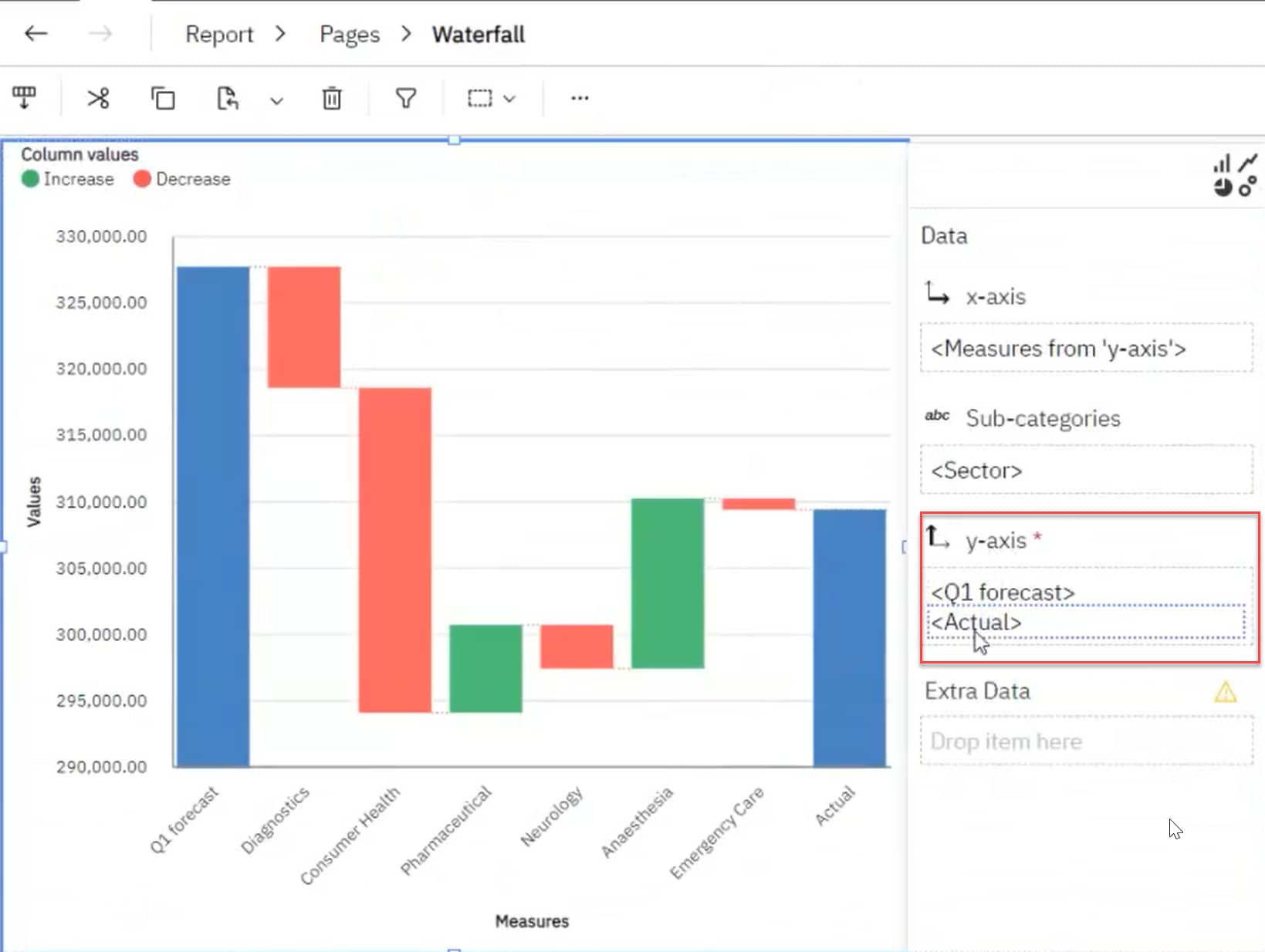 Waterfall charts allow multiple inputs.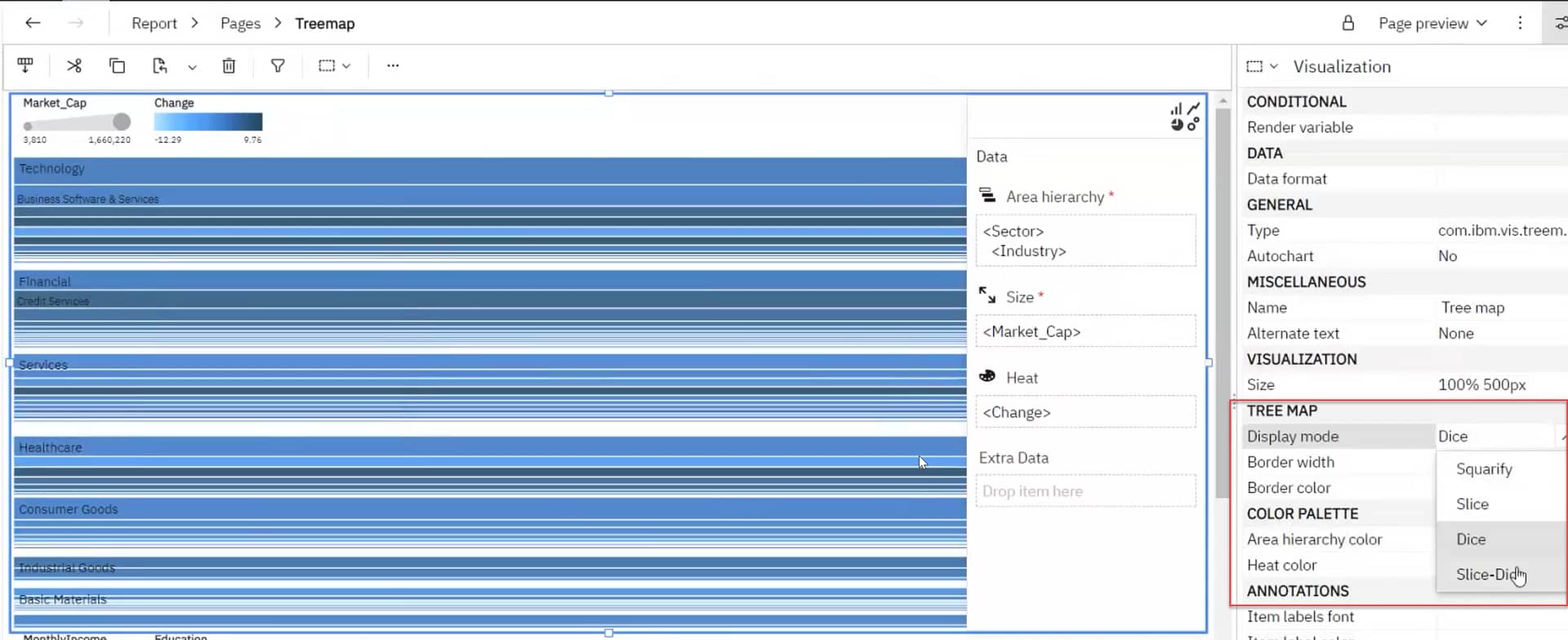 Treemap now offers four display modes: Squarify, Slice, Dice, Slice-Dice.
Dashboards
Dashboards in 11.1 R7 get a bunch of new improvements as well. The drop zones for visualizations no longer require you having to focus/expand, add or change them. This capability saves a bunch of time when working with multiple visualizations.
You can also type in the name of the field and Cognos will auto-complete it based on available fields from the model.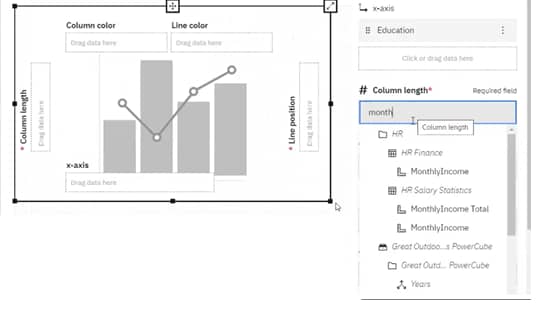 While Conditional Formatting was added in a few releases ago, the ranges were static and fell apart as soon as you filtered your data. In this release, you can now use percentage-based thresholds, define custom colors and palettes, and even add icons/emojis.

New scheduling interface
While Cognos 11 introduced a new way to schedule reports, it missed the mark, especially for users who were familiar with Cognos 8/10 scheduling. The updated 11.1 R7 interface has been simplified and includes a natural language summary of the schedule to make sure the schedule is easy to validate.
Other features that help close the gap between Cognos 10 and 11 scheduling include keeping the credentials of the person who creates the schedule, search capabilities to find options and save as Report View.
APIs galore!
With this new release, we get not one, not two, but three new REST APIs!
The first one allows you to create JSON end points to web services. Grab data like MLB stats or COVID-19 related information from web-based sources.
The second API is focused on automation tasks and serves as an alternative to the old SOAP-based SDK. Expect to be able to modify things like capabilities,

content, customizations, groups and roles using the new API.
The final API is a dashboard JavaScript API that unlocks additional properties not available in the dashboard.
It can automate changes and pass context to dashboards embedded within other applications.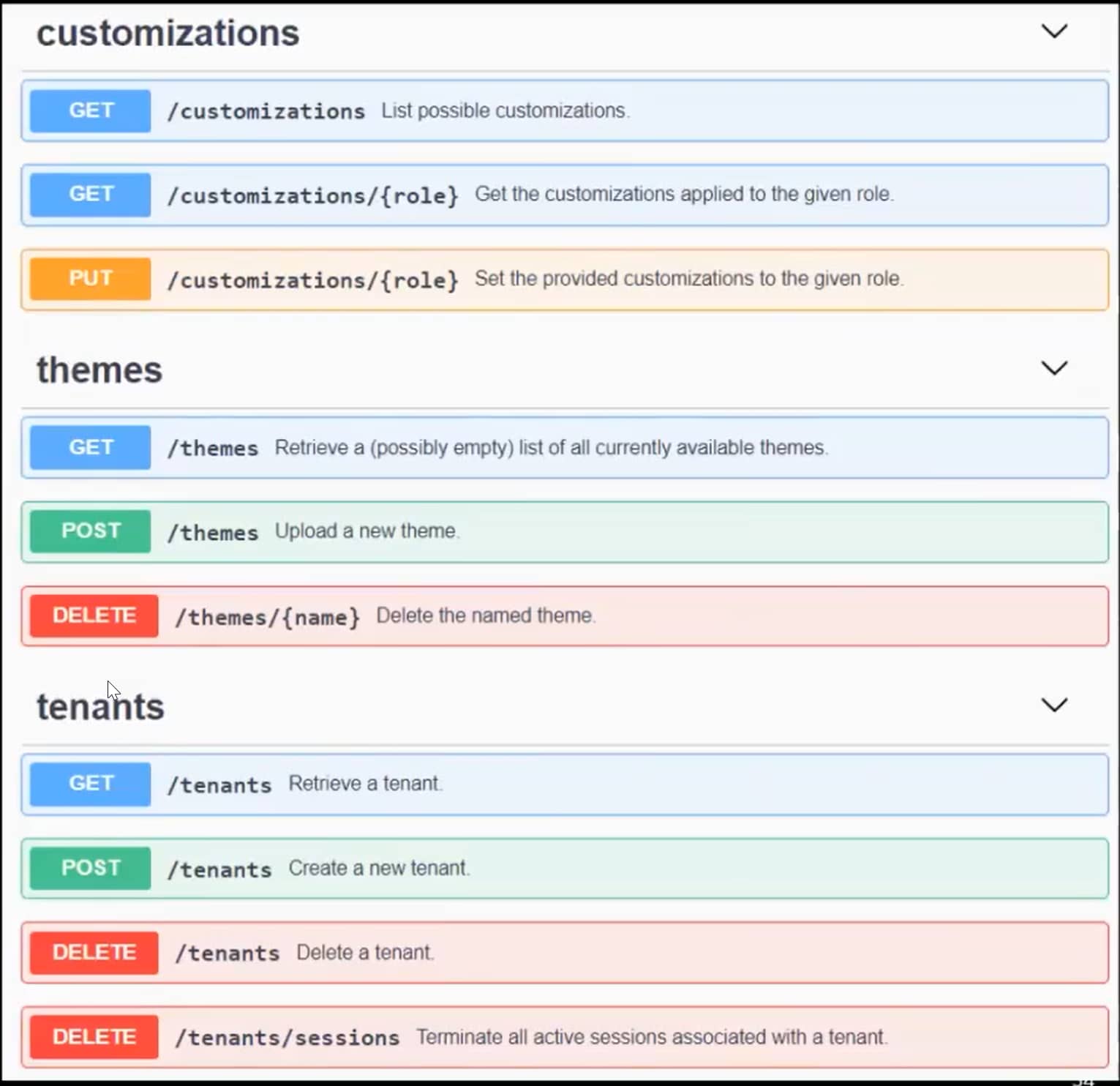 Odds and ends
And finally, some noteworthy odds and ends.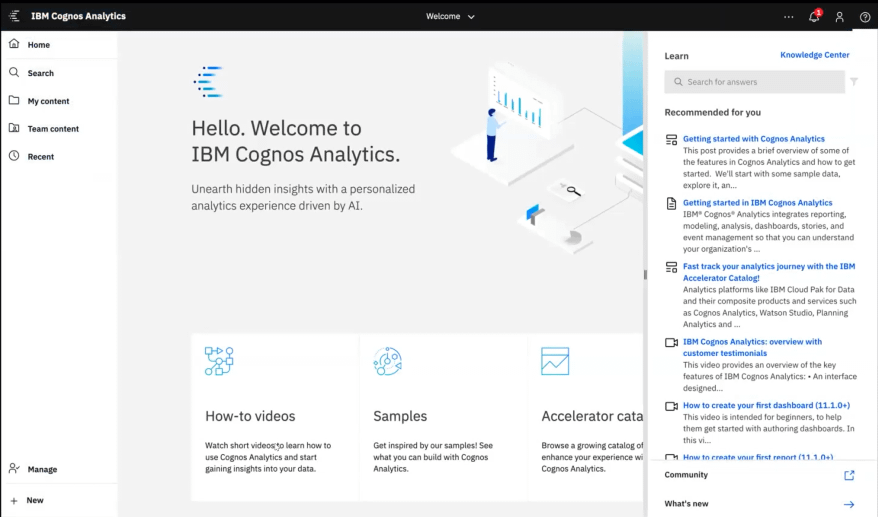 Carbon UI. 11.1 R7 introduced the first view of the Carbon theme, which will soon become the new default theme for all IBM products.  Existing themes will stay in place for now and it's mostly just a black color instead of blue. Expect to see more of this in 11.2.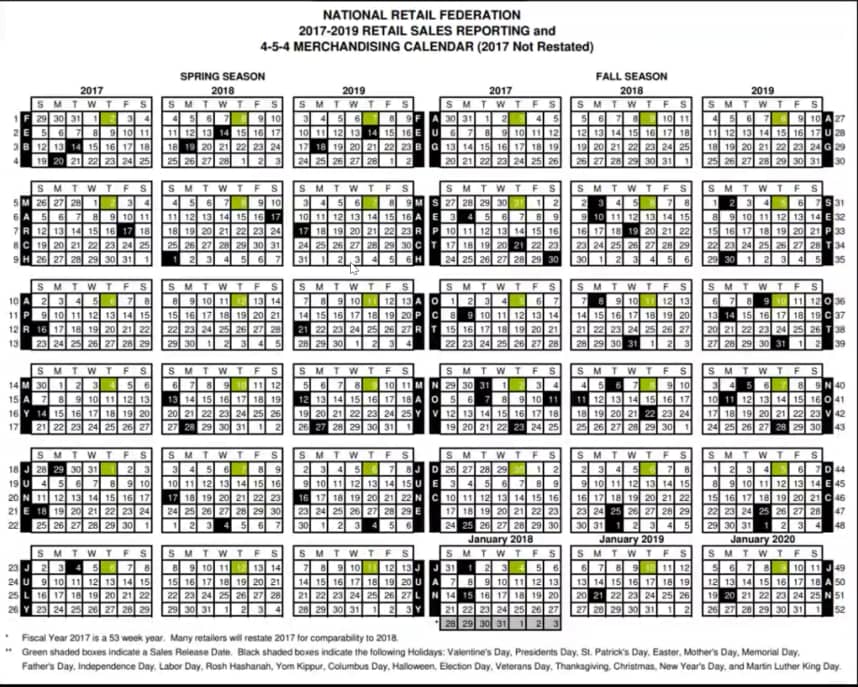 4-5-4 calendar. The 4-5-4 calendar, used often in retail, is now available as part of the samples and can be quickly integrated into your data modules as a new time dimension.
Disable On-Demand Toolbar by report or role. The On-Demand Toolbar can be disabled at the report level or by using group capabilities.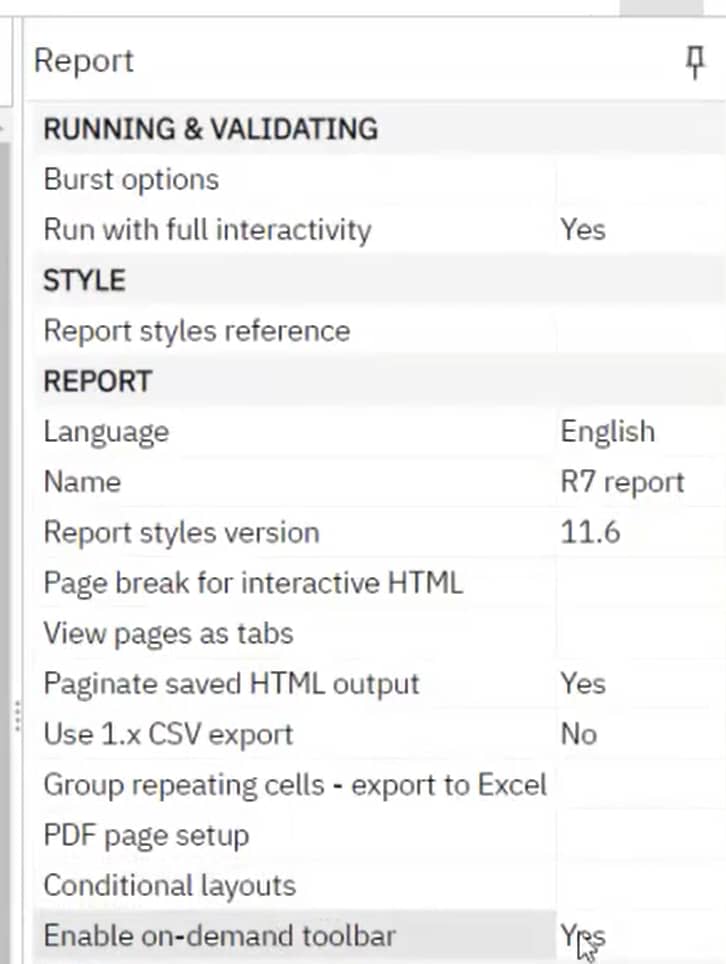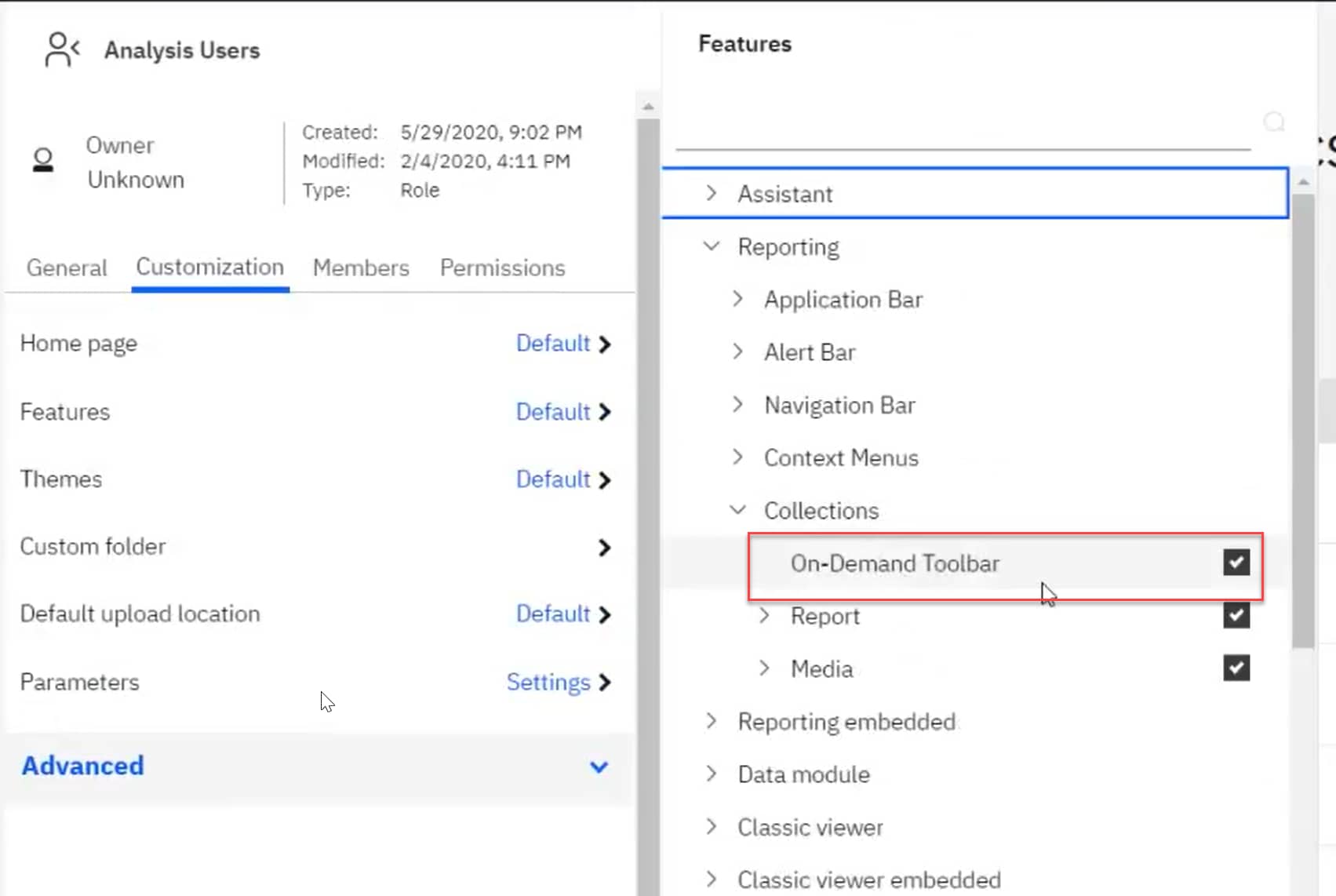 Restrict email capabilities. The ability to control the email capabilities has been greatly enhanced. You can now control things like:
Restrict attaching outputs
Restrict including links
Restrict share using email option
Restrict emailing to external email
Takeaway
Unlike the 11.0.13 LTS release, which was mostly bug and stability fixes, the 11.1 R7 release is going out with a bang. It is jam packed with new features guaranteed to keep you busy until 11.2 rolls out later this year.
Need help with your Cognos upgrade? Choose from three options according to what best suits your needs: Mentoring, Quick Start and Full Upgrade Implementation. Or, get guidance anywhere along the BI stack by tapping our team of BI experts, who will fill in any knowledge gaps and hit the ground running.