Power BI Creating Reports & Visualizations
In this course you will learn to
Configure the PBI environment with themes
Build visualizations
Enhance with sorting
Filter visualizations
Use DAX with visualizations
Modify report context with DAX
Create new columns and measures
Use quick measures
Add parameters
Work with advanced slicer techniques
Examine drill behavior on visualizations
Use tooltips effectively
Create conditional formatting
Group data
Add advanced report interactivity features
Review format properties
Build hierarchies and nesting
Create bookmarks
Custom page navigation
Introduce multiple visualization types
Included in this course
Hands-on exercises
Course manual
Suggested attendees
Business analysts and IT personnel. No previous experience required, but prior report development experience in other tools is helpful.
Course Outline
Configure the PBI environment with themes

Take a tour of the PBI desktop environment
Configure a theme

Build visualizations

Import data into PBI desktop
Set default properties on fields
Create basic visualizations

Enhance with sorting

Enhance visualizations with sorting
Review different sorting options
Sort fields by other fields

Filter visualizations

Use the filter pane
Create page level filters
Review workbook level filters
Work with slicers

Use DAX with visualizations

Introduce DAX functions
Build custom fields with DAX
Use DAX to build a dynamic visualization

Create new columns and measures

Add to a visualization with new custom measures
Enhance visualization with custom columns
Create quick measures

Add parameters

Explore what if parameters
Create a Top N slicer
Understand numeric slicers
Explore advanced slicer techniques

Examine drill behavior on visualizations

Create a visualization with drill up/down functionality
Develop a drill through visualization
Use tooltips effectively

Understand when and how to effectively use tooltips in a visualization

Create conditional formatting

Explore available options for conditional formatting
Conditionally format a visualization with rules
Conditionally format a visualization with ranges
Format a visualization with DAX

Group data

Create a data group
Use histograms in a visualization with binned data

Use additional DAX functions

Explore report context
Understand the Calculate, Filter and All functions

Add advanced report interactivity features

Conditionally show and hide report objects
Understand page navigation
Explore hierarchies and nesting

Create bookmarks

Review bookmarks
Build a workbook using bookmarks, images and buttons

Introduce multiple visualization types

Explore PBI format properties
Customize matrix visualizations
Explore timeline slicers
Explore bullet visualizations
Use additional visualization types
Payments by purchase order and invoice incur a $50 service fee.
Paying party will receive a payment confirmation email upon receipt of payment.
Each registered student will receive an email with the course details.

Self-paced training subscriptions start when payment is received.

Students will receive electronic copies of the course materials and may print one hard copy for their personal use. The course materials are copyrighted and any other reproduction or distribution of these materials is strictly prohibited.
This class requires a local copy of Power BI Desktop. Download it for free
 Instructor-led online
We recommend using two monitors in order to simultaneously view the training presentation and hands-on class work.
You'll receive a Zoom link to join the class. We recommend using a headset instead of the computer's microphone and speakers. You may also listen to the audio by phone.
Instructor-led online
100% refund for cancellations made more than 10 days before the first class
50% refund for cancellations made 5-9 days before the first class
No refund for cancellations made less than 5 days before the first class
Self-paced
Full refund if cancelling within 24 hours of registration
$15 fee for cancellations after 24 hours of registration
No refund for cancellations after 15 days of registration
Shared subscriptions will be immediately deactivated and no refund issued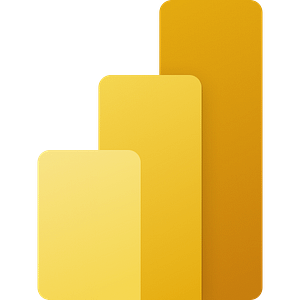 You may also be interested in
Power BI Fundamentals